Catherine Spooner (1992, English) is Professor of Literature and Culture at the Department of English and Creative Writing at Lancaster University, where she specialises in Gothic literature, film and popular culture, with an emphasis on fashion and costume.
Catherine's latest book is Post-Millennial Gothic: Comedy, Romance and the Rise of Happy Gothic, published by Bloomsbury in February 2017. The book was the outcome of a 9-month AHRC Research Fellowship and explores such phenomena as the perennial revival of Gothic style on the high street, the advent of the sparkly vampire, and Gothic tourism in Whitby, in relation to developments in twenty-first century subcultures. Catherine is also the author of Fashioning Gothic Bodies (2004) and Contemporary Gothic (2006). Contemporary Gothic was translated into Korean in 2008. She has co-edited three books: The Routledge Companion to Gothic (with Emma McEvoy, 2007), Monstrous Media/Spectral Subjects: Imaging Gothic from the Nineteenth Century to the Present (with Fred Botting, 2015) and Return to Twin Peaks: New Approaches to Materiality, Theory and Genre on Television (with Jeffrey A. Weinstock, 2015). Catherine is currently working on a cultural history of the white dress in Gothic literature and film, and on the cultural afterlife of the Lancashire witches.
Catherine has recently contributed to the volumes accompanying three major exhibitions: Gothic: The Dark Heart of Film at the British Film Institute; Terror and Wonder: The Gothic Imagination at the British Library and Alexander McQueen: Savage Beauty at the Victoria and Albert Museum. She has given public talks at venues including the Barbican Gallery, the BFI, the British Library, the Bronte Parsonage Museum, ICA London and the V&A, and has made media appearances on BBC Breakfast, BBC Radio 3, BBC Radio 4, BBC World Service, BBC Radio Lancashire and BBC Three Counties Radio. Catherine was co-President, with Angela Wright, of the International Gothic Association 2013-17.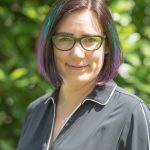 Catherine Spooner
Related Links