Chris Koenig-Woodyard (1996, graduate) is an award-winning academic who specialises in Romantic, Victorian and Gothic literature.
After completing his Master of Studies and a DPhil at the Hall (submitting a thesis on Coleridge), he held a Post-Doctoral Fellowship of the Social Sciences and Humanities Council of Canada.
He has taught at the University of Western Ontario, the University of Guelph, Trent University, Morgan State University (Baltimore Maryland), and the Wilfrid Laurier University, He has lectured at the University of Toronto for the last ten years.
He is co-editor of Transatlantic Romanticism: An Anthology of American, British, and Canadian Literature, 1767-1867 (Longman, 2006); Sullen Fires across the Atlantic: Essays in British and American Romanticism (Romantic Circles, 2006), and Romantic Poetry in America: A Bibliography (forthcoming).
His work has appeared in The Wordsworth Circle; Romanticism and Victorianism on the Net; Teaching the Transatlantic Eighteenth Century and Essays on Richard Matheson.
In 2006, he was a recipient of an undergraduate teaching award from the Students' Administrative Council-Association of Part-Time Undergraduate Studies, University of Toronto.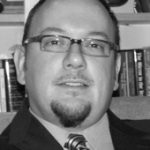 Chris Koenig-Woodyard