Clare George (1989) is the author of two novels, The Cloud Chamber (Sceptre, 2003) and The Evangelist (Sceptre, 2005).
Having completed a Masters in Creative Writing at East Anglia, she had a short story, Snapshot, broadcast on Radio 4 in 2006. She taught creative writing at City University London from 2007 to 2009, and was Writer in Residence at Exeter University from 2009 to 2011, where she led an outreach programme for writers across the South West exploring visions of the future. She is currently working on a third novel.
There is an interview with Clare in The Times Higher Education Online
What do you recall about the English course at Oxford that helped you to become a writer?
Studying English at St Edmund Hall influenced me hugely. I was given a door pass to a lot of enormous libraries and the opportunity to talk to some very clever and learned people about the books I found in them. I read Clarissa in a week whilst stranded on a clifftop in Cornwall working as a cook. I conceived a grand passion for Philip Sydney's Arcadia, not a single detail of which I can remember. I read Samuel Beckett's Trilogy, which is still officially my favourite 'novel', though I'm not sure I could read it again. None of this would have happened if I hadn't had an essay to write at the end of reading them, but they're all part of me now.
Should there be a Creative Writing component on the syllabus?
The best advice I can give to anyone who wants to write fiction is to keep reading. Conversely, I love the idea of creative writing as a means of studying literature. Shakespeare and Shelley got under the skin of the writers of the past by being taught to write in their style, and became literary revolutionaries. I think that scholarship would benefit at least as much from the use of creative writing to help interrogate texts as literature would from the skills learned by young writers.
How do you encourage young writers?
I'm not sure young writers need all that much encouragement! Being a writer is usually a pretty tough choice at one point or another, and in my experience, most of those who persist, do so because they can't help it.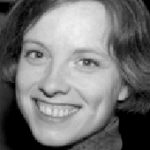 Clare George