Claudine van Hensbergen joined the English department at Northumbria University in 2012 as a lecturer in Eighteenth Century English Literature, having held research posts at Oxford, York and Tate Britain.
As a graduate she taught at St Edmund Hall while studying for her DPhil and it was while at the Hall, cataloguing an online index of poetic miscellanies for Oxford University, that Claudine discovered pornographic poems hidden in two volumes of poetry published in the eighteenth century.
She is currently writing a book, Telling Stories, Transforming Genres: The Courtesan's Role in English Literary Culture, 1660-1730. This study examines the ways in which the courtesan was at the centre of shifts in dramatic taste, including the flurry of classical tragedies produced in 1677, the popularity of city comedy in the late 1670s and early 80s, and the development of she-tragedy from the 1680s-1710s.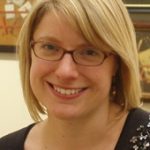 Claudine van Hensbergen