Daisy Hildyard (2003) graduated from the Hall with a First. She is nearing completion of a PhD on early modern scientific literature at Queen Mary, University of London, where she has been awarded the Marjorie Thompson Prize and the Drapers' Company Postgraduate Prize.
Daisy's first novel, Hunters in the Snow, was published by Jonathan Cape in July 2013, and has been hailed as 'a remarkably intelligent debut', a 'truly dazzling first novel', and as a book 'so rich in texture it deserves many re-readings'.
Daisy is married to the poet Caleb Klaces, also a Hall Writer. They have one daughter, born in 2014.
"Studying English was useful for my writing because it gave me three years to read, work and listen — listening to tutors, other students and critical writers, as well as authors we studied, seems like the most valuable thing to me now, ten years since I started. It was useful in a practical way to learn to be more patient (with my own writing, as well as with other people's), and to take pleasure in different kinds of books."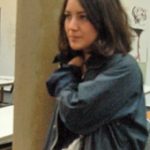 Daisy Hildyard