Dr David McCartney
Fellow by Special Election in Clinical Medicine
Dr David McCartney is Director of Graduate Entry Medicine in the Medical Sciences Division and Fellow by Special Election at St Edmund Hall.
After qualifying in medicine he undertook an academic training pathway in General Practice and has held a number of research posts in the Nuffield Department of Primary Care Health Sciences. In his current role as Director of Graduate Entry Medicine he has overall responsibility for the university's 4-year Graduate-entry programme.
He has been teaching at St Edmund Hall since 2011 and is responsible for the clinical teaching and supervision for undergraduate medical students in the clinical years of the course.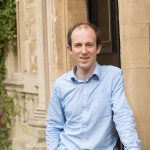 Dr David McCartney
BMBCh, MA, MRCP, MRCGP
Fellow by Special Election in Clinical Medicine
College Lecturer in Systems Medicine
Director of Graduate Entry Medicine