Sir Derek Morris
Honorary Fellow
Alumnus Sir Derek Morris (1964, PPE) was Provost of Oriel College, Oxford between 2004 and 2013. From 1998-2004 he was Chairman of the Competition Commission (formerly the Monopolies and Mergers Commission); this followed three years as a member of the Commission and three years as its Deputy Chairman.
He has been a Member of the Committee for Standards in Public Life; the Chairman of the Trustees of the Oxford University Pension Fund; a Non-Executive Director of Lucida plc; a Senior Consultant in regulatory and competition economics for Frontier Economics; Chairman of Oxford University's College Contributions Committee (which recommends redistribution of resources from colleges with high endowment to those with low endowment); and Chairman of the Advisory Board for the Centre for Business Taxation at Oxford University.
From 1970-1998 he was Fellow and Tutor in Economics, Oriel College and University Lecturer (subsequently Reader) in Economics. During this time Sir Derek spent two years as the Chairman of the Economics Sub-Faculty at Oxford and a further two years as Chairman of the Social Studies Board.
He has written widely on a range of economic issues including unemployment, trade policy and performance, productivity growth, industrial policy, macro-economic policy, the Chinese economy, exchange rates, profitability, the stock market and corporate control.
Sir Derek, knighted in 2003, was educated at Harrow County Grammar School before receiving First Class honours in PPE from the Hall. He did his doctoral thesis on Investment Behaviour in the UK at Nuffield College, Oxford and was then a Research Fellow at the Centre for Business and Industrial Studies, Warwick University. From 1981-1984 he was seconded from Oxford as Economic Director of the National Economic Development Office.
Sir Derek, who also led the government's 2005 Morris review of the actuarial profession, is currently a senior economic advisor for Frontier Economics, and an advisor to the Chinese Government on economic reform. In August 2017 he joined Cheviot Trust, a not-for-profit organisation which runs a number of pension schemes. He is Chairman of the organisation.
His first novel, Pawn's Gambit (Arena Books) was released in 2012 under the pseudonym of Harry Armstrong, and to critical acclaim – being shortlisted for the 2013 Political Fiction Book of the Year Award.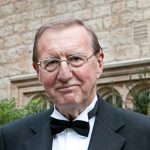 Sir Derek Morris
Kt, MA, DPhil (DSc Cran; DCL East Ang; LLD Dublin)