Elizabeth Scott-Baumann has been pursuing an early career fellowship at Leicester University. She has recently accepted a permanent appointment in the English Department at King's College, London.
She attended Creative Writing Workshops while at the Hall and contributed poems to the publications Synergies and Chatter of Choughs. After graduating with a First, she completed her DPhil at Oxford, specialising in seventeenth-century English literature, and went on to a lectureship at the the Hall before being awarded a Leverhulme Early Career Fellowship at Leicester University.
She co-edited The Intellectual Culture of Puritan Women, 1558-1680 and is a regular reviewer for TLS. Her forthcoming monograph, Forms of Engagement: Women, Poetry and Culture, 1640-1680, concerns poetry by Lucy Hutchinson, Margaret Cavendish and Katherine Philips.
She is currently engaged in a research project entitled Literary Criticism and Gender in Early Modern England.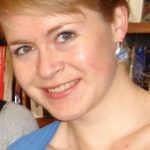 Elizabeth Scott-Baumann