Faith H. Wainwright
Honorary Fellow
Faith Wainwright is a director of Arup, which she joined after graduating with a degree in Engineering Science from St Edmund Hall in 1983.
As a structural engineer, she has contributed to many award-winning projects, and became a Fellow of the Royal Academy of Engineering in 2002. Currently she is Vice-President of the Institution of Structural Engineers.
Faith enjoys opportunities to encourage and support the UK's design and engineering capability and has wide experience in leadership roles including serving on the British Library Advisory Council, and the Civil Engineering panel of the REF14 research assessment exercise. She is a non-Exec Director of the KTN, part of Innovate UK.
Faith is passionate about advancing skills and capabilities through collaboration and effective governance, and in Arup she leads the framework for the 'Skills Networks' which are the backbone of technical excellence.
Faith was awarded an MBE for services to the Built Environment and Engineering Professions in 2012 and an Honorary DENg from Bath University in 2014. She is married with three children, and lives in Northwood, Middlesex.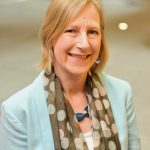 Faith H. Wainwright
MBE, FREng, DEng (Hon)
Honorary Fellow
Vice-President of the Institution of Structural Engineers