George Richard Wilson Knight (1897 – 1985) was an outstandingly distinguished scholar and literary critic, who wrote on subjects as diverse as Shakespeare, Byron, Ibsen and Nietzsche.
After graduating from the Hall, his first academic post was at Trinity College, Toronto, where he met, befriended and influenced the young Northrop Frye.
Knight taught at Stowe School from 1941 to 1946, after which he became Reader in English Literature at the University of Leeds. Here, as a colleague of Kenneth Muir (also an Aularian) he taught a celebrated two-year course on drama, in which Shakespeare was approached as part of world drama stretching from Aeschylus to Ibsen. After Muir's departure to a chair at Liverpool, Knight continued to build up the outstanding reputation Leeds had acquired for Shakespeare studies; and was recognised with a personal chair in 1956.
Eccentric and powerfully original, Knight was fascinated above all by mythical patterns and meanings in literature. His book The Wheel of Fire, Interpretations of Shakespearian Tragedy (1930) is one of the most famous and influential in the field.
Northrop Frye acknowledged Knight as a major influence, and recalled their early association at Toronto with gratitude: 'Like most students of my generation, Knight's books had much the effect on me that Chapman's Homer had on Keats, and the method indicated, of concentrating on the author's text but recreating it by studying the structure of imagery and metaphor, seemed to me then, and seems to me still, the sort of thing that criticism is centrally about.'
Knight was not only a great critic; he was also an actor, a theatrical director, and a charismatic lecturer, who inspired dramatic activity in the university at Leeds with great energy until his retirement in 1962.
The Morality of Art, a collection in his honour, was published in 1969. It contains essays by such illustrious writers as Geoffrey Hill, L.C. Knights, Kenneth Muir and Norman Jeffares.
"Knight's books had much the effect on me that Chapman's Homer had on Keats" Northrop Frye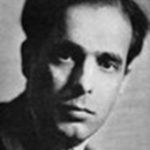 G. Wilson Knight