Dr Hussein Al-Mossawi
Fellow by Special Election in Medical Sciences
Hussein Al-Mossawi has been teaching pathology and immunology at St Edmund Hall since 2009 and was elected to a Fellowship by Special Election in 2016.
Hussein Al-Mossawi completed his medical degree at Trinity College Oxford in 2006. He went on to complete his foundation and core medical training at the Oxford Deanery and moved to Bristol in 2010 to start specialist training in Rheumatology.
He returned to Oxford in 2012 to commence translational immunology research supervised by Paul Bowness and Fiona Powrie and funded by a Wellcome Trust clinical fellowship. He completed his DPhil studies in 2016 and worked on pathological immune responses in Spondyloarthritis with a particular focus on the role of GM-CSF in axial and peripheral spondyloarthritis and the role of IL7R polymorphisms in inflammation.
He is currently an Academic Clinical Lecturer in Rheumatology at NDORMS and his current work focuses on the immunobiology of Psoriatic Arthritis. Additionally he is a Fellow and lecturer in pathology and immunology at St Edmund Hall and lecturer at Exeter College.
Hussein's current research interests are focused on characterising immune responses in autoimmune inflammatory diseases such as ankylosing spondylitis.
Teddy Talk
Watch a video of Hussein's short talk about his research (aimed at a non-specialist audience), 'Colouring-in for adults', given at one of the St Edmund Hall Research Expos. In it, he talks about flow cytometry – a technique which uses flourescent compounds of different colours to label molecules on cells. He explains how we can use this approach to investigate the cell populations responsible for causing immune-mediated diseases such as Ankylosing Spondylitis and explore how new therapies can alter the behaviour of the different cell types.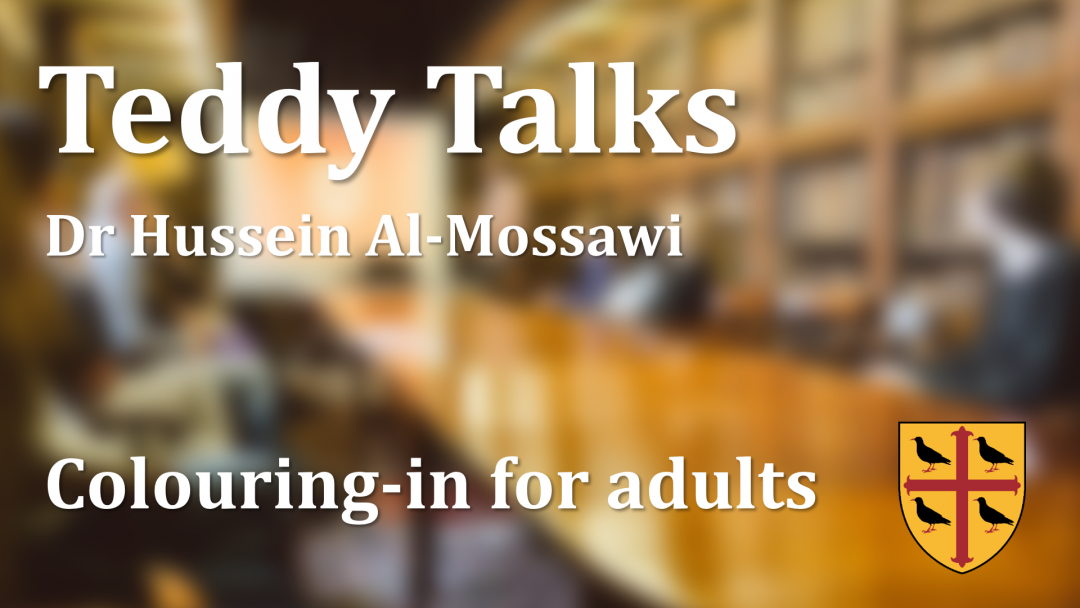 Dr Hussein Al-Mossawi
BMBCh MA DPhil Oxf, MRCP (Rheumatology)
Fellow by Special Election in Medical Sciences
NIHR Clinical Lecturer in Rheumatology
Related Links