Professor Ian D Pavord
Professorial Fellow and Professor of Respiratory Medicine
Ian D Pavord, DM FRCP is Professor of Respiratory Medicine at the University of Oxford and Honorary Consultant Physician at the Oxford University Hospitals.
Before this he was a Consultant Physician from 1995 and Honorary Professor of Medicine from 2005 to 2013 at the Institute for Lung Health, Glenfield Hospital, University Hospitals of Leicester NHS Trust. He is an NIHR Senior Investigator.
He was born and went to school in Abergavenny and trained in medicine at University College London and Westminster Hospital, graduating in 1984. As a postgraduate he was a Lecturer in Respiratory Medicine at Nottingham University and a Visiting Fellow at the Firestone Regional Chest and Allergy Unit, McMaster University, Canada. His DM was awarded by the University of Nottingham in 1992. He has a research interest in the clinical aspects of inflammatory airway diseases (asthma, cough, and chronic obstructive pulmonary disease) and he has pioneered the use of non-invasive measures of airway inflammation in these conditions. He has identified a number of clinically important phenotypes of inflammatory airway disease and has played a lead role in the clinical development of three of the most promising new treatments for severe asthma.
Professor Pavord is co-editor of Thorax, Chief Medical Officer of Asthma UK and a former Associate Editor of the American Journal of Respiratory and Critical Care Medicine. He is the author of more than 250 publications and has an H-index of 64. His publications include 4 in the New England Journal of Medicine and 11 in the Lancet. He gave the Cournand Lecture at the 2004 European Respiratory Society meeting, the second UK-based researcher to have been given this honour. He is married to a Consultant Haematologist and has three children. He is a keen golfer with a handicap of 5.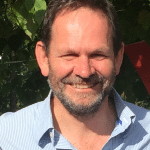 Professor Ian D Pavord
DM FRCP
Professorial Fellow and Professor of Respiratory Medicine
Governing Body Fellow
Related Links