Ian McLachlan (1957) is an award-winning novelist and playwright, and he has published poetry in Asia, Europe and North America.
His books and plays include The Seventh Hexagram (1976); Helen in Exile (1980); Shanghai 1949 (1989), with Sam Tata; Lear One/One (Peterborough,1990); In the Margins of the Empire: Reading Cambodia (Peterborough, Victoria, HongKong, 1993); The General and the Mother (in Thai) (1995); Crow Hill (Peterborough, 1997), with Robert Winslow; The Orchard (1998), with Robert Winslow; Dr Barnardo's Children (Peterborough, 2005, 2006, Goderich 2010), with Robert Winslow; Ho Chi Minh in Prison (chapbook) (Peterborough, 2010).
McLachlan has acted in several films and many plays, and conducted theatre workshops throughout North America and in Nicaragua, Palestine, Iraq, Thailand and Vietnam. He is publisher of the small publishing company Ordinary Press, where he has edited many books by emerging writers, and he was a founding member and director of border/lines magazine.
He is Professor Emeritus of Cultural Studies at Trent University in Ontario, Canada, where he still teaches an honours undergraduate class in Creative Writing and Performance, and a PhD course on Cultural Theory. In the 1960s he founded and was chair of the Department of European and Comparative Literature at the University of Hong Kong.
He is a critic and cultural historian with far-reaching publications on topics that range from modern French poetry to ancient Chinese bronzes. He is interested in all forms of intercultural transmission, with a particular concentration on the exchange of artifacts and ideas in early Southeast Asia.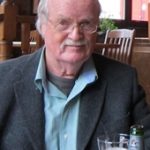 Ian McLachlan