Jim Dening (1958, French and German) is a poet with a background in journalism and publishing.
After completing a thesis on a 20th century French novelist, he became, surprisingly, a business journalist and subsequently a book publisher. He founded the imprint Archive Editions, specialising in research-based document collections on political and diplomatic history, now part of Cambridge University Press. He also established the International Boundaries Research Unit within the University of Durham.
He has been active for many years as a poet, winning a commendation in the National Poetry Competition as well as other awards, with work published in various poetry magazines. He has given many readings, including in the Netherlands and more recently to a sell-out audience at the Ledbury Poetry Festival.
Jim has lived in France and also writes in French. He is co-founder of a satirical/absurdist band in Ledbury.
His published collections include:
pebbles, debris (2003, Arcade publishers)
Dealing with the edge (2011, Arcade publishers), and corrected edition, 2016
Les chemins d'ici/The roads round here, 2016.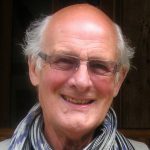 Jim Dening