Jonathan (1994, English) is an Honorary Research Fellow at the University of Buckingham, where he has also worked as Associate Editor on the Dickens Journals Online project.
He was awarded his doctorate for his thesis on Charles Dickens and the pantomime clown in February 2013. This work reinterprets Dickens's Memoirs of Joseph Grimaldi (1838) and examines a number of Dickens's comic figures in relation to the tropes of pantomime, and is currently being developed into a monograph for Edinburgh University Press.
His other research interests include Dickens's afterlives in cinema and television, the influence of Dickens's work on Salman Rushdie, and Wilkie Collins. He has contributed to books on Dickens and the imagined child, and neo-Victorian villains. He has also spoken on his research at over twenty conferences, and has been published in a number of journals.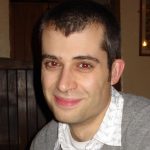 Jonathan Buckmaster