Julia Wills (1983) is the author of two novels for children.
Julia Wills had her first novel, a comedy-adventure for children, Fleeced! (Templar; 2nd edition Piccadilly Press) published in 2014. Her second novel, Rampage! (Piccadilly Press) was published in 2015. Both feature Aries, the furious, bald ghost ram of the Golden Fleece, desperate to find his magnificent coat, stolen years before by Jason and his Argonauts. The books have been hugely popular with children, librarians, parents and teachers, and have been reviewed several times in teaching magazines and on The Guardian website.
Julia studied Experimental Psychology at the Hall (1983-1986) but has always written. In 2008 she graduated with an M.Phil. in Creative Writing from the New University of South Wales.
Julia's patchwork career has included marketing, university administration, primary school teaching. She is currently a part-time legal secretary, as this allows her time to write.
In her free time she visits schools, libraries and bookshops to run workshops that stimulate children's creative writing.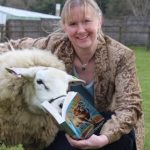 Julia Wills