Katy Rink (1994, English and Modern Languages) is an author and freelance journalist for several national newspapers.
Katy started out as a regional reporter and feature writer for the Cambridge Evening News and East Anglian Daily Times. She has juggled family life and freelance journalism, writing news, comment and features for the Guardian and Telegraph, Daily Mail and Daily Express. She also works with the news agency Bavmedia, supplying news and picture stories and real life features to news organisations and women's magazine.
Katy completed an MA in Creative Writing and a law conversion at UWE Bristol, taught English at Adcote School in Shropshire and, most recently, launched a new local magazine My Shrewsbury to celebrate life in her home town.
Her first book Managing MIL resulted in radio and television appearances here and abroad, including: ITV Daybreak, BBC World Service, BBC Asian Network, Newstalk Ireland, RTE Radio 1, Australia's Daily Edition and many others.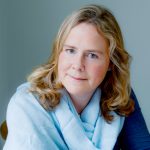 Katy Rink