Professor Keith Gull
Honorary Fellow
Professor Keith Gull was Principal of St Edmund Hall from 2009 to 2018. Previously, he was a Wellcome Trust Principal Research Fellow at the Sir William Dunn School of Pathology in Oxford. He still holds a Chair of Molecular Microbiology and has an active research laboratory in the Dunn School.
Prior to that, Keith held Chairs of Biochemistry and Cell Biology in the Universities of Manchester and Kent and visiting appointments in Austria and the USA. He teaches aspects of tropical medicine to medical and science students in Oxford, in particular the molecular microbiology of parasites causing diseases such as Malaria, African Sleeping Sickness and Leishmaniasis. He has major interests in the education of graduate students and has initiated and been involved in many developments in graduate schools and graduate education. Currently he runs short courses in East and West Africa for young scientists and is Director of one of the Wellcome Trust 4 year PhD programmes in Oxford.
A central theme of Keith's research has been the biochemistry and cell biology of microtubules. This interest was initiated by his early finding that a number of antibiotics and drugs acted by inhibiting these essential cellular components. His interests are now focused on the African trypanosome – the parasite causing Sleeping Sickness, a devastating disease of sub-Saharan Africa. His laboratory is particularly interested in the structural and molecular mechanisms of pathogenesis.
Further details of Keith's research can be found at his faculty page.
Watch a video of a short talk given by Keith at the College's inaugural Research Expo in 2015, entitled 'Seeing the Invisible in Health and Disease' about the development and impact of the electron microscope.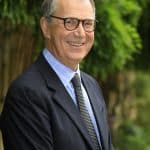 Professor Keith Gull
CBE, DSc(Hon), FRS, FMedSci, FRSB
Related Links