Martin Garrett (1975) is an acknowledged scholar and writer.
His postgraduate research was on Renaissance drama and he has edited Critical Heritage volumes on Massinger and Sidney. He is the author of volumes on Byron, Mary Shelley and the Brownings in the British Library Writers' Lives series, and has taught a range of courses for the universities of Oxford and Cambridge and UCL. More recently he has enjoyed giving lectures to A-Level students on a variety of authors from Chaucer to Emily Brontë and Ian McEwan. His Palgrave Literary Dictionary of Byron (2010) was joint winner of the Elma Dangerfield Award in 2011 and his A Romantics Chronology, 1780-1832 won the 2017 Knowledge and Information Management Information Resources Award of the librarians' organisation, CILIP.
His recent work includes a cultural history of the Loire, The Palgrave Literary Dictionary of [P.B.] Shelley (2013) and Oxford, Innercities Cultural Guides (Signal Books, Oxford, 2014). He has nearly completed The Palgrave Literary Dictionary of Mary Shelley and will be going on to work on a volume on Coleridge in the same series.
Other work includes literary and cultural guides to Greece, Italy, Venice, Provence and Cambridge.
"The greatest benefits of an Oxford English degree were learning how to write (thanks to having to do about ninety essays over the three years) and being required to explore literature of all periods from Old English to modern."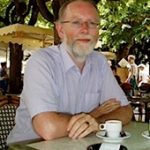 Martin Garrett