Sir Martin Smith
St Edmund Fellow
After completing his physics degree at Oxford University in 1964, Sir Martin spent five years in industry before attending Stanford University in California, where he obtained a Masters degree in Business Administration and Economics, and met his wife Elise.
His career in the financial services sector, particularly investment management and banking, has spanned more than 40 years. After senior management positions in two major US commercial banks, he became a founder and senior partner of Phoenix Securities, and subsequently chairman of European Investment Banking for the American bank Donaldson, Lufkin & Jenrette after they acquired Phoenix.
Sir Martin then went on to co-found New Star Asset Management Ltd, of which he was Deputy Chairman. He is currently Chairman of GP Bullhound LLP, a leading technology investment bank, and Worldwide Healthcare Trust, and a director of Oxford Capital Partners.
A keen supporter of the arts, in 1986 Sir Martin was a Founder and is Chairman of the Orchestra of the Age of Enlightenment, and has served on the boards of a number of other organisations including the Royal Academy of Music, the Glyndebourne Arts Trust, Ashmolean Museum, and the Science Museum. Between 2000 and 2005 he served as Chairman of English National Opera. He also has Honorary Fellowships at the Royal Academy of Music and the Science Museum.
In 2008 his family founded the Smith School of Enterprise and the Environment, a new research and teaching initiative at Oxford University, and in 2013 he received a knighthood in the New Year's Honours List for services to the arts, education and science.
Sir Martin has become a keen amateur orchestra conductor since conducting the Orchestra of the Age of Enlightenment in a performance of Messiah in the Banqueting House in Whitehall on his 60th birthday. He now has Beethoven's 7th Symphony, the New World Symphony, Mendelssohn's violin concerto, and Grieg's piano concert in his repertoire, along with many other works.
In November 2017, Sir Martin Smith received an Honorary Doctorate for his contribution to the arts, education and science from the University of Gloucestershire.
He has lived in Gloucestershire since 1988 with his wife, Lady Smith OBE (Elise), who is founder and President of the Tetbury Music Festival.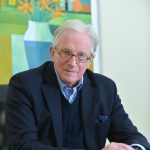 Sir Martin Smith
MA (MBA Stanford), Kt