Michael Tomko (1997, graduate) is Associate Professor of English at Villanova University, where he specialises in English Romanticism.
He studied for an MPhil at the Hall, and contributed to the book Chatter of Choughs.
Michael is the author of British Romanticism and the Catholic Question: Religion, History and National Identity, 1778-1829 with Palgrave Macmillan and of "Firmly I Believe and Truly": The English Catholic Spiritual Tradition, co-edited with John Morrill and John Saward (OUP, 2011) He has also published articles in books and scholarly journals.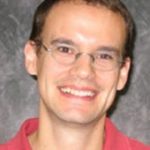 Michael Tomko