Professor Sir Peter Hirsch
Emeritus Fellow
Peter Hirsch is a materials scientist who pioneers the direct observation and motion of crystal defects called dislocations in thin foils using a transmission electron microscope. These observations have helped explain the role of dislocations in controlling plastic deformation of metals. He and his group developed the theory of electron diffraction contrast imaging, which enables dislocations to be observed and characterised.
The technique is used to monitor defects introduced during materials processing, gives guidance to the understanding of mechanical properties, and underpins the development of new materials such as high-temperature alloys for jet engines, nuclear radiation-resistant alloys, and semiconductor devices.
Peter was a Fellow of St Edmund Hall from 1966 to 1992, at which point he was made an Emeritus Fellow. His honours include the 1984 Wolf Foundation Prize in Physics, the Royal Society's Royal Medal and the Russian Academy of Sciences' Lomonosov Gold Medal. He was knighted in 1975. From 1982–1984, Peter was Chairman of the UK Atomic Energy Authority, and he was founder Chairman of Isis Innovation, the technology transfer company of the University of Oxford.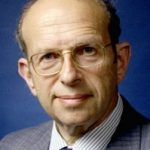 Professor Sir Peter Hirsch
Kt, MA, DPhil (MA, PhD Camb), FRS
Emeritus Fellow
Emeritus Professor of Metallurgy
Related Links