Polly Marshall (1980) is a playwright as well as the author of The God Of Hellfire: The Crazy Life And Times Of Arthur Brown.
After graduating from the Hall, she went on to do an MA at Sussex University on 'Twentieth Century English Literature In Its Context'.
Her first play Phoebe was commissioned by Fireraisers theatre who toured with it in 1999. It told the story of Brighton legend Phoebe Hessell, who at age 108 claimed to have passed herself off as a man and fought in the Napoleonic wars. Presented in The Zap night club on Brighton seafront, it used folk music, rock music, video and live action – as well as the talents of local drumming group RedZebra. The play featured in a documentary on Channel 4.
Marshall's second play, Allegra, told the life of Lord Byron's lovechild. It was the winner of the Arts Council's 2000 New Writer's Drama award.
Polly Marshall's mother is Shirley Collins, one of the great English folk singers of the 1960s and President of the English Folk Dance And Song Society.
Marshall's biography of the eccentric pop-star Arthur Brown draws on anecdotes, press clips, and extensive quotations from Brown's own diaries. She portrays her subject not just as counter-culture sixties icon, but also as a 'spiritualist, free thinker, painter and decorator', and 'a notorious outlaw arrested for firearms offences and public nakedness.'
She was the Founder Director of Do Tongues (1993-2002), live literature events which started with a reading by Alan Moore, whom Marshall met while studying his work for her M.A., and finished with Patti Smith's Artist's Residency at Charleston, the Sussex home of the Bloomsbury Group.
Since 2002 she has been the Director at Shooting Star Productions Ltd, which provides international production management for touring musicians such as Björk and Grace Jones.
"Studying English at Teddy Hall gave me the world's greatest education in English Literature, my abiding passion. It's a thorough grounding for life, and continues to inspire my writing, and give me insight into the exciting artists I work with. I came away from Teddy Hall inspired to write — and start my own companies — with an approach which marries performance and literature."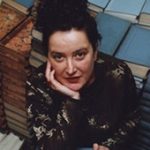 Polly Marshall