Professor Rafal Bogacz
Associate Lecturer in Clinical Medicine
Rafal Bogacz graduated in computer science at Wroclaw University of Technology in Poland. Then he did a PhD in computational neuroscience at the University of Bristol, and next he worked as a postdoctoral researcher at Princeton University, USA, jointly in the Departments of Applied Mathematics and Psychology. In 2004 he came back to Bristol where he worked as a Lecturer and then a Reader. He moved to the University of Oxford in 2013.
At St Edmund Hall, Rafal gives tutorials on statistics and computational neuroscience.
He also teaches the computational neuroscience module on the University's MSc in Neuroscience programme, and Mathematics and Statistics on the BSc in Biomedical Science.
Rafal's research is in the area of computational neuroscience, which seeks to develop mathematical models describing computations in the brain giving rise to our mental abilities. He is particularly interested in modelling the brain networks involved in action selection and decision making, and understanding how brain dynamics change in Parkinson's disease.
Mikhael, J. G., & Bogacz, R. (2016). Learning reward uncertainty in the basal ganglia. PLoS computational biology, 12(9), e1005062.
Bogacz, R., Moraud, E. M., Abdi, A., Magill, P. J., & Baufreton, J. (2016). Properties of neurons in external globus pallidus can support optimal action selection. PLoS computational biology, 12(7), e1005004.
Whittington, J. C., & Bogacz, R. (2017). An approximation of the error backpropagation algorithm in a predictive coding network with local hebbian synaptic plasticity. Neural computation, 29, 1229-1262.
Listen to a lecture given by Rafal at the ETH Zurich Computational Psychiatry Course 2017: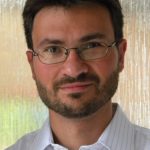 Professor Rafal Bogacz
MSc Wroclaw University of Technology, PhD Brist
Associate Lecturer in Clinical Medicine
Associate Professor
Related Links