Roger Gundle
College Lecturer in Medicine
Roger Gundle has been Consultant Orthopaedic Surgeon to the Nuffield Orthopaedic Centre in Oxford since 1995 and was Programme Director in Trauma and Orthopaedic Surgery for the Oxford Deanery from 2001-2009. He was previously Clinical Lecturer in Orthopaedic Surgery at the University of Oxford from 1989 to 1995.
Roger has taught Human Anatomy to undergraduate medical students in Oxford since 1989 and is also Lead in Musculoskeletal Anatomy for the University Anatomy Department. He also has a longstanding role in teaching clinical medical students and training higher surgical trainees in Orthopaedic Surgery.
His research interests are first in connective tissue cell biology relevant to human disease, particularly inflammatory joint diseases; and secondly in the clinical management of prosthetic joint infection; and third in outcomes of orthopaedic surgical procedures in the adult hip and knee.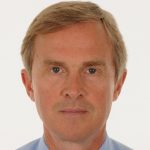 Roger Gundle
MA DPhil FRCS
College Lecturer in Medicine
Hon Senior Clinical Lecturer in Orthopaedic Surgery, University of Oxford
Fellow, University College
Research Associate and College Lecturer in Medicine, St Catherine's College