The Hon Salman Khurshid
Honorary Fellow
Salman Khurshid read for a BA in Law, successfully graduating with First Class Honours in 1977, followed by a further year of study to gain a BCL. Whilst up at Oxford he played squash and was in the Hall cricket team. After graduation he lectured in Law at Trinity College, Oxford.
He returned to India and started his political career in 1981 as an Officer on Special Duty in the Prime Minister's Office, during the Prime Ministership of Indira Gandhi in the early 1980s. He later became the Deputy Minister of Commerce in the Government of India, and then Minister of State for External Affairs from 1993-96, having been elected to the Indian parliament in 1991. He is a member of the Indian National Congress party.
In the General Election of 2009 he was again elected as a member of parliament and was made Union Minister of State (with Independent Charges) of Corporate Affairs and Minority Affairs. In a cabinet reshuffle of July 2011, he was made Cabinet Minister for Law and Justice, and Minority Affairs.
He is a grandson of the late Dr Zakir Hussain, President of India and is married to Louise.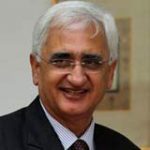 The Hon Salman Khurshid
BCL