Sebastian Langdell (Visiting Student, 2003) completed his MSt in English Language and Literature at Oxford in 2007.
He went on to obtain a Masters in Creative Writing and English at the University of Texas, where he edited the Bat City Review and taught undergraduate English literature and writing courses. From 2009 to 2010 he served as a publishing fellow at the University of Texas Press. he then returned to Oxford and in 2014 he successfully completed his DPhil on Thomas Hoccleve, He has held a Lectureship at the Hall, and has also taught for other colleges, including Somerville. He is revising his thesis for publication as a book.
Sebastian is a founding member of the International Hoccleve Society.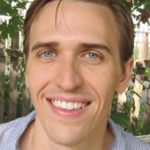 Sebastian Langdell