Simon Gatrell (1965) is Professor of English at the University of Georgia in Athens.
Simon spent six years at the Hall as an undergraduate and postgraduate, and taught at the University of Natal in South Africa and the University of Ulster before moving to America.
He writes principally in Victorian and Edwardian literature, but has also published in Irish literature and bibliography and textual criticism. His first book was a collaboration with Tony Bareham, a colleague in Northern Ireland – a bibliography of the poet George Crabbe (1978) – as was his second, this time with the late Juliet Grindle – the Clarendon Press edition of Thomas Hardy's Tess of the d'Urbervilles (1983). Since then he and Hardy's writing have been intimate companions, together producing four critical studies. The earliest was a detailed analysis of Hardy's methods of composition, Hardy the Creator (Oxford, 1988), which was followed by Thomas Hardy and the Proper Study of Mankind (Macmillan and the University Press of Virginia, 1993), and Thomas Hardy's Vision of Wessex (Palgrave, 2003).
Most recently Peter Lang brought out Thomas Hardy Writing Dress in 2011 which Simon says is the piece that has given him most pleasure to write, as he discovered the theory and history of costume, and was able as a consequence to illuminate the profound but hitherto unnoticed significance of clothing in Hardy's poetry and fiction.
Currently he is working on a scholarly critical edition of Hardy's novel Under the Greenwood Tree, one volume in Cambridge University Press's projected complete edition of Hardy's fictional prose.
His writing life, however, has not been a perpetual journey through Wessex. Simon edited and contributed essays to The Ends of the Earth, volume 4 (1876-1918) of English Literature and the Wider World (Ashfield, 1992), has published on a range of other Victorian novelists and poets, and on some Irish writers including Jennifer Johnston, Seamus Heaney and the nineteenth-century poet William Allingham – indeed he has spent much of his spare time over the last 30 years bringing together materials for what will be the first full-length biography of this last neglected and underrated writer – when it finds a publisher!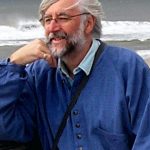 Simon Gatrell