Dr Sundeep Dhillon
Honorary Fellow
Sundeep came up to St Edmund Hall in 1988 to read medicine; whilst here, his interest in exploration grew and he became Chairman of the Oxford University Exploration Club as well as leading a research expedition to Mt Kanchenjunga, the third highest mountain in the world. He has looked for challenges in all aspects of his life, since the loss of his parents when he was just 13. He started hill walking whilst at school and in 1988 followed Hannibal's route across the Pyrenees and Alps on bicycle.
In 1996, during the worst ever storms on Everest, Sundeep was forced to turn back some 400 metres below the summit, and had to bury a fellow climber on the way down. Undeterred he returned two years later and successfully broke a world record to become the youngest person in the world to climb the Seven Summits – the highest mountain on each continent. To date, this has only been completed by around 67 people, and Sundeep held the record for 4 years. He has travelled, climbed and visited over 40 countries on every continent, and in every environment from the deserts of Antarctica to the Sahara, and the jungles of Africa to the high mountain ranges of the world. He has climbed two previously unclimbed peaks in Antarctica, and helped put up a new rock route on the highest mountain in Australasia.
In April 2000 he completed the toughest foot race on earth, the self-sufficient 140-mile Marathon des Sables, helping to raise £15,000 for the NSPCC. In January 2003, he joined a scientific diving expedition to Pitcairn Island in the South Pacific. This is one of the most remote places on the planet, and home to a handful of descendants of the Bounty mutineers.
Sundeep, who, as a military GP spent time in Afghanistan and Iraq, has also been the youngest member of the Council of the Royal Geographical Society and a member of their Medical Cell. He is an Aspirant member of the Alpine Club. He lectures on the BSc course in Space Medicine and Extreme Environment Physiology at University College London and a member of the UK Space Biomedicine Steering Group.
He was awarded a medal by the Royal College of Surgeons of Edinburgh in 2000 for the best performance in the examination in Pre-hospital Care. He has been featured in a variety of media, including TV documentaries, newspapers and radio. Sundeep was awarded an MBE in the 2008 Queen's Birthday Honours list.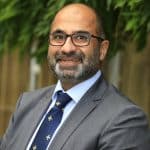 Dr Sundeep Dhillon
MBE, BM BCh Oxf