Thomas Karshan (2002, graduate) is a Senior Lecturer in Literature at the University of East Anglia.
He wrote his DPhil thesis on Nabokov (supervised by Andrew Kahn and Hermione Lee). After teaching for the Hall, he went on to a Junior Research Fellowship at Christ Church College, Oxford, and then to a Leverhulme Post-Doctoral Fellowship at Queen Mary, University of London, before joining UEA as a lecturer in 2011.
He is the President of the International Vladimir Nabokov Society. His book Vladimir Nabokov and the Art of Play was published by OUP in 2011. He also edited Nabokov's Collected Poems (Penguin, UK; Knopf, USA) and co-translated The Tragedy of Mr Morn (1924) with Anastasia Tolstoy, an edition also published by Penguin and Knopf.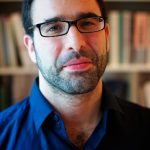 Thomas Karshan