Tony Cash (1954, French and Russian) has led a distinguished career as a writer and documentary maker.
National service in the Navy (1952-54) gave him a second language, Russian, to read with French for his degree. As an undergraduate he played the clarinet and saxophone with the Oxford University Jazz Club and was President for a term. After teaching languages, he joined the BBC's Russian Service in 1963. For more than 60 years he has been a writer/producer/director penning books and articles, as well as making principally arts documentaries. In 1977, he left the BBC with Melvyn Bragg to set up The South Bank Show. He won international awards for a dramatised documentary about Lytton Strachey and Dora Carrington and for 'Baryshnikov – The Dancer and the Dance'.
He left The South Bank Show in 1983 to set up an independent company, through which he produced 22 programmes on the history of classical music, 'Man and Music', for Channel Four. In 1990 he wrote, produced and directed 'Generalissimo', in the series Stalin for ITV. Other programmes requiring significant script elements include The South Bank Show's 'Keppel Road: The Life and Music of the Bee Gees'; two series for ITV – 'The Jesus File' – shot on archaeological and historical sites in the Holy Land examining what 2,000 years later we can learn about the Founder of the Christian Faith; and a four-parter called 'Sex and Religion' probing how and why the men and women of God issue their injunctions and prohibitions on our sexual activities.
He is the author of several books and articles on Russian and Soviet history and culture, as well as broadcasting. His most recent articles have appeared in the East-West Review, the journal of the Great Britain-Russia Society.
Publications:
1965 Great Neighbours: USSR (Ward Lock)
1967 The Russian Revolution (Ernest Benn)
1967 The Russian Revolution (a Jonathan Cape Jackdaw publication)
1972 Lenin (a Jonathan Cape Jackdaw publication)
2012 The Coder Special Archive (Hodgson Press), co-authored with Mike Gerrard and with a foreword by Alan Bennett, recounts how in the 1950s the authors along with a small group of young national service linguists were conscripted into the Royal Navy to learn Russian for a variety of Cold War purposes.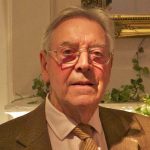 Tony Cash