Vivien Jones is Professor of Eighteenth-Century Gender and Culture at Leeds University, where she is also Pro-Vice Chancellor for Student Education.
Vivien held a Junior Research Fellowship at the Hall soon after it became a mixed college. Her first book centred on Henry James, but after moving to Leeds in 1983 her research and publications have focused on issues of gender and writing in the eighteenth century.
Her collection of primary documents, Women in the Eighteenth Century: Constructions of Femininity (Routledge, 1990) has become a widely-used textbook both in the UK and in the US. She has also edited a collection of specially commissioned essays entitled Women and Literature in Britain, 1700-1800 (Cambridge University Press, 2000). Key issues in her research include narratives of sexuality and representations of the figure of the prostitute in eighteenth century fictional and non-fictional texts, and the cultural significance of conduct writing. She has also edited Frances Burney's Evelina for the Oxford World's Classics series.
Her publications on Mary Wollstonecraft include a memorial lecture at the 1997 BSECS conference, The Death of Mary Wollstonecraft, and an essay on Mary Wollstonecraft and the Literature of Advice and Instruction in the Cambridge Companion to Mary Wollstonecraft, edited by Claudia Johnson (Cambridge University Press, 2002).
More recently she has focused on Jane Austen, with an edition of Austen's Selected Letters which came out from the Oxford World's Classics series, and a volume on Austen for OUP's Authors in Context series.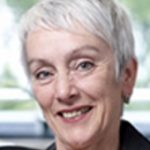 Vivien Jones