I'm a clinician scientist at the Mahidol-Oxford Tropical Medicine Research Unit in Bangkok, Thailand, and a doctor in the John Radcliffe Hospital in Oxford. I've been interested in international health since I was an undergraduate medic at the Hall and it's a privilege to now be working in this exciting field with some of the best minds in the world in a part of the world which is close to my heart.
I'd applied to Oxford as a bit of a joke. No one in my family had been to Oxbridge and I had been advised by my school that my chances were remote, particularly for medicine, "a snowball's chance in hell" to be exact. I was interviewed in the Old Library by Robert Wilkins and Ann Taylor, the first female Tutorial Fellow at the Hall. It was a cold climb up narrow stairs in a borrowed coat, but my main memory of the interview was laughing in a cosy room about things that go bang in the dark, which on hindsight was really a discussion about the physiology of the sympathetic nervous system.
I have always been grateful they saw something in me and gave me the opportunity to embark on this exciting professional journey I am still on. In my first year, my sister became very ill from dengue haemorrhagic fever and I started to get involved with research and operational projects to improve access to and effectiveness of treatments in an international health setting. These first projects on three continents were made possible with the generous support of college grants and awards from alumni endowments as well as the kind encouragement I received from the Principal and Governing Body. I am proud to have later been on the Hall telethon team which raised funds for student support and also to name a Hall boat after Dr Taylor. Perhaps also a first taste of the academic grant system!
People are often surprised when I tell them how international the Hall and Oxford are. There were students from five continents on Kelly IV when I lived there. It was quite a bit like how my professional life is now except discussions are now often minuted! It's always a pleasure to come across old University friends in whatever part of the world I happen to be in. I don't think I fully appreciated at the time the rigorous academic training and personalised mentorship I was getting through the tutorial system. Years later, as I sit down to write in the country of my grandparents on the other side of the world, the patient guidance I received in those Emden rooms still resonates.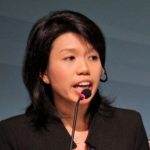 Dr Xin Hui Chan
2004, Medicine
Doctor, John Radcliffe Hospital