Access Hall Areas event at St Edmund Hall
5 Apr 2019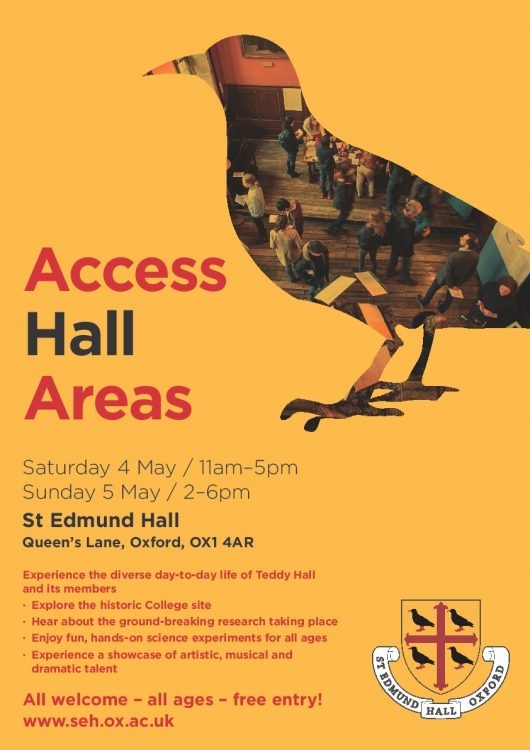 The inaugural Access Hall Areas is now only a month away, as we prepare to open up Teddy Hall to the wider Oxfordshire community over the first May bank holiday weekend on Saturday 4 May (11am-5pm) and Sunday 5 May (2pm-6pm). All are welcome to join us for this free, family-friendly event!
We have an exciting schedule of activities taking place across the College site, which will include tours of areas not normally open to the public – including up the Library Tower and down into the Crypt – and a varied group of speakers drawn from our academics and postgraduate students who will give engaging 10 minute presentations on their research as part of the Teddy Talks programme.
Members of the public will be invited to get involved with hands-on activities ranging from turning copper pennies into brass, carrying out mini explosions and having a go at using a medieval printing press. On top of this we will have musical and dramatic performances from members of the student body, and a creative writing workshop run by our former Writer in Residence, successful author Linda Davies.
We are also lucky to have an interactive talk on 'Maths v. Sport' scheduled for Saturday afternoon at 12:45pm from Dr Tom Crawford, College Lecturer in Mathematics. Alongside his teaching commitments, Tom works closely with the outreach team at Teddy Hall and regularly gives talks in schools and universities across the UK. His award-winning website tomrocksmaths.com hosts videos, podcasts, puzzles and articles that aim to make maths entertaining and understandable to all, so will be a great addition to the theme of inclusivity promoted by this event!
Get Involved!
We are looking for volunteers and performers from all parts of the College community to be involved on the day. If you would like to showcase your research, run an interactive stall for visitors, take part in a musical or dramatic performance, lead tours of the College, help with set-up and decoration, or volunteer to help out in any other way during the day then we would like to hear from you!
For further information or to register your interest, please contact blanche.delany@seh.ox.ac.uk
Other News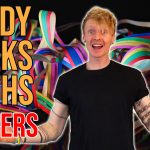 Teddy Rocks Maths Essay Competition - 2022 Winners Announced
College Lecturer Tom Crawford announces the winners of the 2022 Teddy Rocks Maths Essay Competition
12 Jul 2022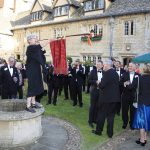 114 Aularians welcomed back to Teddy Hall for the Summer Dinner
The Hall was thrilled to welcome over 100 alumni and guests on Saturday 25 June 2022 for a new annual event, the Alumni Summer Dinner.
4 Jul 2022