Alumnus Dan Thompson celebrates 5th Anniversary of Run the World
21 Feb 2019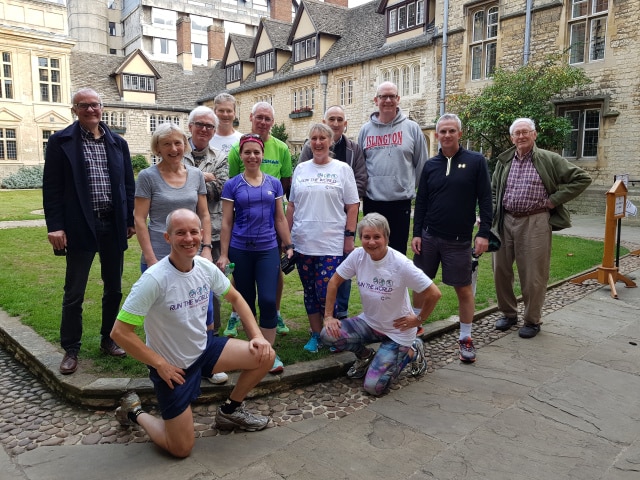 Alumnus Dan Thompson (1979, PPE), recently celebrated the 5th anniversary of his Run the World challenge, which saw him commit to running 10km in every country in the world (plus an additional 44 UK runs) to promote the benefits of an active lifestyle and to raise money for Cancer Research UK.
Dan, who kicked off his Oxford 10k from the Hall in October last year, aims to complete his challenge by the 2020 Olympics/Paralympics in Toyko, and has already hit some major – if gruelling – milestones over the last 5 years.
Skipping over the countless hours spent in cramped airports and filling out visa applications, he has been joined by over 3,500 runners at various legs and has now successfully completed 10k in 168 countries. Total fundraising now standing at almost £45,000 and the hope is to exceed £60,000 by the time he finishes in 2020, with all proceeds going directly to Cancer Research.
The global runs, when added to the additional 44 UK runs, means Dan aims to achieve 250 runs in total; that's the equivalent of running 2,500,000 meters – one metre for every cancer sufferer in the UK.
Dan commented, "I hope that, by running round the UK and the world, I'll not only raise a lot of money for cancer research but I'll also help increase awareness of the huge benefits of an active, healthy lifestyle."
Dan has welcomed members of the Hall community past or present to join him on his challenge, so if you're interested in taking part in a 10k run, regardless of your level of fitness, you can contact Dan for more information via his blog. Upcoming legs in March include runs in Djibouti, Eritrea, Sudan and Comoros, but if you'd like to take part somewhere closer to home, the final run in the challenge will take place in London on July 4 2020.
More information about Run the World can be found on its website, while donations to Cancer Research can be made here: www.justgiving.com/Dan-Thompson11.
Related News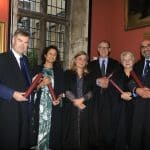 Five Honorary Fellows Sworn in at St Edmund Hall
The College's Governing Body swore in five new Honorary Fellows of St Edmund Hall on Thursday 10 October.
16 Oct 2019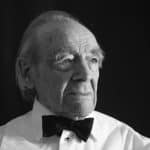 Memorial Service for Dr Francis Rossotti
Memorial Service held for former Tutor in Inorganic Chemistry
10 Oct 2019