Equality and Diversity Week at Teddy Hall
5 Nov 2018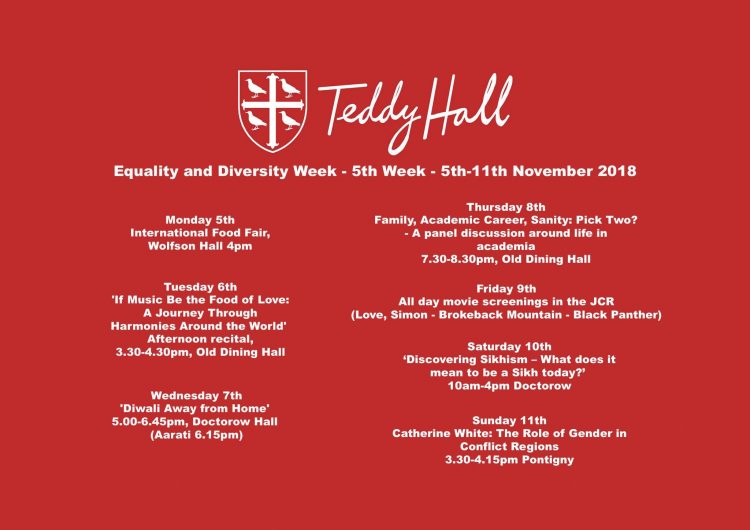 St Edmund Hall's third Equality and Diversity Week starts today, with an International Food Fair in the Wolfson Hall at 4pm. A busy programme of events, running from 5 to 11 November, has been organised by the JCR and MCR (the undergraduate and postgraduate student bodies), to celebrate the diversity of the College.
The schedule includes music, films and talks and you can find the latest event updates by following the Facebook page.
Monday: International Food Fair, Wolfson Hall, from 4pm. Plenty of free food from countries from around the world will be on offer, drop in anytime for some delicious food!
Tuesday: music recital, "If Music be the Food of Love: a Journey through Harmonies around the World", Old Dining Hall, 3:30-4:30pm.
Wednesday: Diwali Away from Home, Doctorow Hall, 5-6:45pm (Aarati 6:15pm) – see the Facebook Event for more details.
Thursday: academic panel discussion, "Family, Academic Career, Sanity: Pick Two?", Old Dining Hall, 7:30-8:30pm.
Friday: films in the JCR – Love, Simon – Brokeback Mountain – Black Panther, throughout the day.
Saturday: "Discovering Sikhism: what does it mean to be sikh today?" Doctorow Hall, 10am-4pm.
Sunday: presentation, Catherine White (2016, MSc Women's Studies): "The Role of Gender in Conflict Regions", Pontigny Room, 3:30-4:30pm
Teddy Hall has a diverse and international range of students studying at the College, and the Junior and Middle Common Rooms would like to invite anyone who would like to learn or celebrate our cultural diversity to the events we are putting on this week.
Other News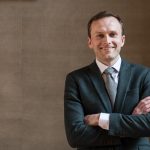 Václav Janeček wins the Jacques Derrida CEFRES Platform Award
Václav Janeček (2017, DPhil Law) has won the Jacques Derrida CEFRES Platform Award for his research on data ownership.
13 Aug 2019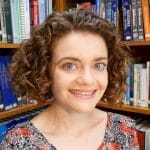 Debut novel PlutoShine by Lucy Kissick wins W&A Working-Class Writers' Prize
St Edmund Hall student Lucy Kissick's (2016 DPhil Environmental Research – Earth Sciences) debut novel Plutoshine wins the inaugural Writers & Artists (W&A) Working-Class Writers' Prize.
7 Aug 2019