Hall Remembers William R. Miller
30 Sep 2020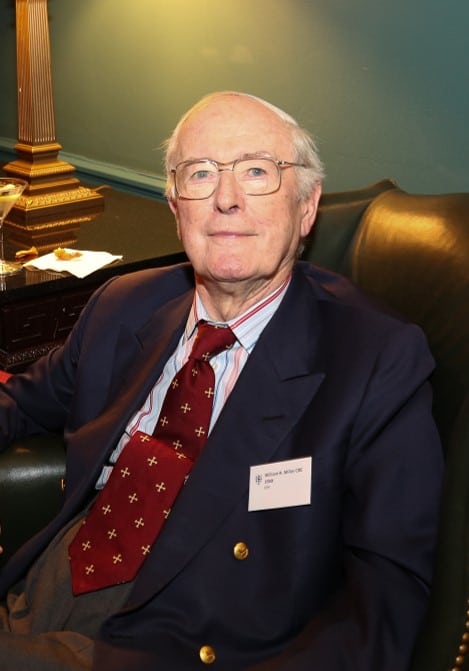 St Edmund Hall is extremely sad to announce that our Honorary Fellow William (Bill) Miller, CBE, KStJ, MA (Oxon), DCs (h.c), DMA (b.c) died on Sunday in New York at the age of 92.
Below is a tribute from the Principal of St Edmund Hall, Professor Katherine J. Willis.
Bill came to Hall in 1949 to read PPE and was tutored by the former Principal, John Kelly. During his time in Oxford he was active member of many societies including the Oxford Union, the University Bach Choir and University Music Society.
After graduating, Bill joined Pfizer in the United Kingdom and remained with them until 1964 when he became Overseas Resident Manager for Europe for Bristol Laboratories. He then transferred to the US in 1966 and pursued a highly successful executive career in the pharmaceutical business ending up as Vice Chairman of Bristol Myers Squibb global biopharmaceutical company before retiring in 1991.
Despite his busy and highly successful international career, Bill remained strongly committed to the Hall throughout his lifetime and fostered Hall spirit wherever he went. For example, in 1984 Bill founded the New York Dinner and attended every dinner since, personally organising dinners up to 2004.
Bill was an incredibly generous donor to the Hall and endowed Tutorial Fellowships in Biochemistry, Neuroscience and Experimental Psychology and Economics, and Junior Research Fellowships in Molecular Aspects of Biology, and Management. He also funded W.R. Miller graduate scholarships and supported the SEH Centre for the Creative Brain. He was also a major funder of student accommodation including providing a generous donation that enabled the building of the WR Miller Building which was opened in 2004. As well as his own contributions to the Hall he showed great leadership in encouraging others in UK and USA to support the Hall.
As well as being an Honorary Fellow of St Edmund Hall, Bill was on the Board of Americans for Oxford and former Vice Chairman, a member of the Chancellor's Court of Benefactors, and a named Distinguished Friend of Oxford.
Bill was very active and interested in the Hall until the end of his life. His death was unexpected and a shock to everyone. Bill was a lovely person and a true gentleman. He will be greatly missed by all.
More tributes to Bill Miller
The Rt Hon the Lord Patten of Barnes CH has recently given us a wonderful tribute to Bill Miller. The obituary is available to read via this link.
Read this personal obituary to Bill from his nephew Andrew Miller (1981, Biochemistry).
Please note: there will be a requiem for Bill on Friday 2 October at Saint Thomas Church, 5th Avenue, New York, 12pm.