Introducing Raghul Ravichandran as newly elected MCR President
18 Jan 2022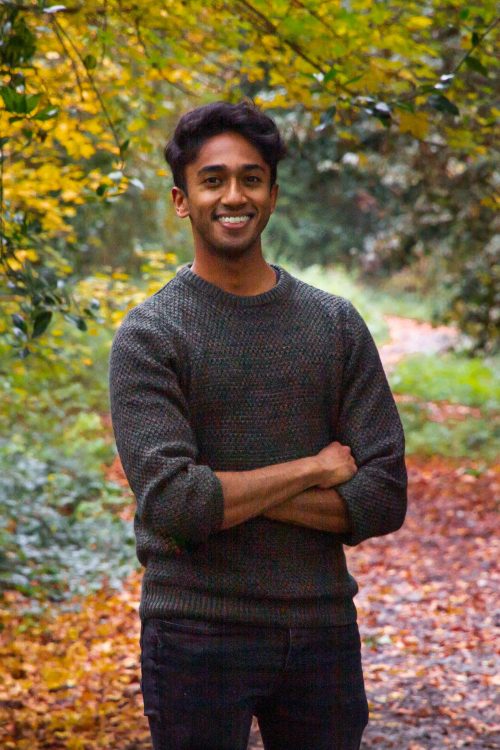 Congratulations to Raghul Ravichandran who has just been elected by his fellow postgraduate students at St Edmund Hall to be their next MCR (Middle Common Room) President. Raghul is a third-year DPhil Student in Engineering Science. We asked Raghul to answer a few questions to help introduce himself to the wider Teddy Hall community.
Can you tell us a little about yourself and what you're studying?
Hi Hall! My name is Raghul (most call me Raggy) and I'm a third year DPhil in Engineering Science. I grew up in Manchester, where I found a love for two things: the outdoors (aided by the nearby Peak District) and a good pub. I studied for my integrated Master's in Aeronautical Engineering at Imperial College London, before coming to Oxford to pursue a DPhil.
My research is an experimental project looking at the aerodynamics of re-entry vehicles (returning spacecraft) at hypersonic speeds. In particular, I'm looking at how a particular cooling technology, transpiration cooling, may affect the aerodynamics on sharp wing leading edges.
Why did you decide to run for MCR President?
It's not always easy to move to a place like Oxford when you don't know anyone. The social Teddy Hall atmosphere really helped with the transition during my first year. Even over lockdowns, the Hall community kept active across the College: in the MCR, in various sports teams, and around the different facilities the College was able to keep open. Keeping this going as a representative of the MCR is something I've wanted to take part in, to help shape what incoming students will experience.
What are you hoping to achieve?
Returning back to the rhythms and traditions of the MCR before the pandemic. In this regard, ex-committee members have already been so helpful in our return to normality- a massive thank you to them! I am also looking forward to expanding the range of events available – I'd like to ensure social events are accessible by members who are looking for different things out of the MCR, be it social, academic or welfare-related.
What do you think are the current strengths of Teddy Hall's MCR?
Definitely the social atmosphere or 'Hall Spirit': there is always someone at dinner or in the common room that you can sit down and have a chat to, often studying something incredibly interesting and very different to yourself.
In what ways have you already been involved in College life?
Last year I was the MCR Welfare Officer, it was an odd time to join onto the MCR committee, but definitely a rewarding one. Other than that, you might find me rowing with the boat club, playing football with the MCR team, or at the dining hall- Teddy Hall is known for some of the best food!
What's been your personal highlight of your time at Teddy Hall so far?
Being able to row in Oxford's famous inter-college 'bumps racing' last summer! The Hall spirit was definitely at a high, with lots of support and encouragement. Oxford is gorgeous in the summer, and I remember going in and out of our hot lab to race at the boathouse just 5 minutes away. Myself and a fellow Teddy Hall rower managed to help each other run experiments as the other would go out to race!
The following committee members were also elected at this election:
Vice-President: Antonin Charret
Stewards: Giovanni Rolandino
Treasurer: Sally Blumenthal
Welfare: Siddhant Dhingra, Nancy Liang, Izzy Creed
IT: Aleksei Malyshev
Academic: Will Moppett
Sports: Muyi Yang