Jacqui Gitau gave in conversation talk for Black History Month
13 Nov 2023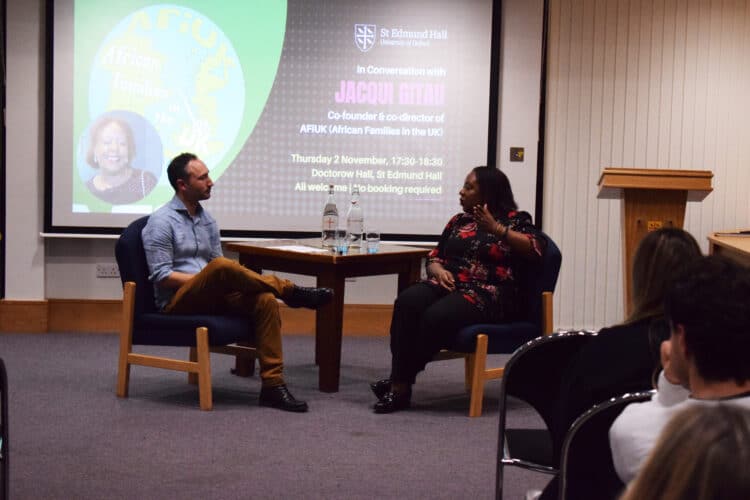 On Thursday 2 November, the Hall welcomed Jacqui Gitau, activist and co-Founder of AfiUK (African Families in the UK) who gave a brilliant and heart-warming 'In conversation' talk for Black History Month 2023. Teddy Hall's Equality, Diversity and Inclusion (EDI) Fellow, Dr Steve Smith, insightfully interviewed Jacqui about her organisation and how they support African families in the UK.
Jacqui Gitau is an activist passionate about family wellbeing, particularly the migrant family. She is a parenting strategist and a Co-founder and director of AFiUK. Jacqui holds a first degree in Community Family Development and a Masters degree in Childhood Studies.
AFiUK (African Families in the UK) is an organisation set up to serve the interests of African and other ethnic minority families where the parents were born and educated overseas, while their children have been born in the UK, often creating a clash of cultural identities for all concerned. AFiUK supports a local youth club, homework and tutoring schemes, maternity support groups, and cultural mixing events such as culinary sharing and cross-cultural parenting training.
The video is available to watch on St Edmund Hall's YouTube Channel.
The Hall's 'In Conversation' series bring together experts in their field on topics of EDI.