New JCR President elected: Brittany Perera
12 Jan 2022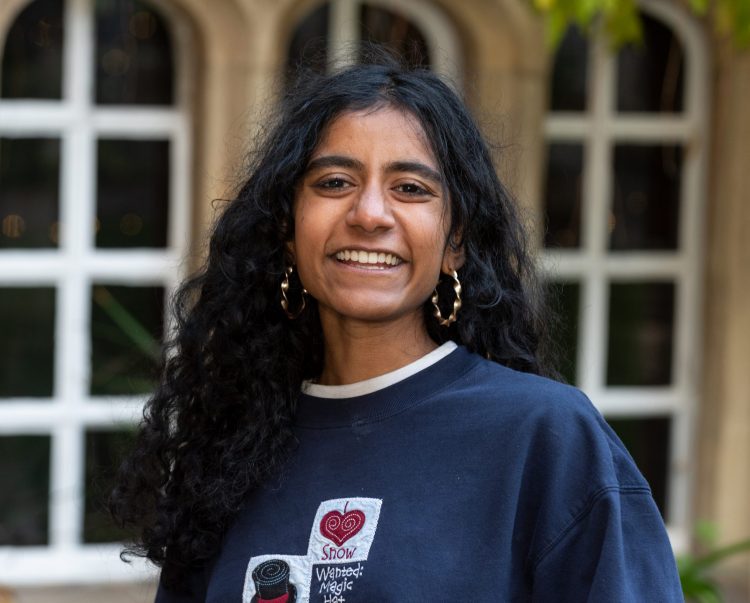 Brittany Perera (2020, Engineering Science) was elected by the St Edmund Hall undergraduate students to become their next JCR (Junior Common Room) president. She took over the role from Julien Kress in 9th Week of Michaelmas term (6th December 2021).
Why did you choose to stand for election?
This is probably the easiest question to answer- I just love the Hall. If I'm being honest, I didn't actually apply to Teddy Hall (shocking behaviour, I know) but once I got here, I fell head-over-heels for it, from the beautiful quad to the excellent food in the Wolfson, to the tight community we have here. The idea of being at any other college is genuinely frightening to me now, so I wanted nothing more than to represent the Hall that has made my time at Oxford the best it could possibly be and be in a position where I can do the same for others.
What are you hoping to achieve?
My main goal this year is for people to enjoy being at the Hall as much as I do. I want to make college life even better than it already is by making sure that everyone feels included in this, with lots more events that everyone can get involved in, as well as by focussing more on welfare and what we can do to make sure that the student body feels supported. I also want to be a friendly face that people are happy to talk to and create a platform where everyone feels like they can put forward suggestions on how to improve the Hall.
What do you think are the current strengths of the College?
Apart from having the best sports teams in all of Oxford? (A confirmed fact). The strength of the Hall is that you can't really call it a college, because it's not. It's a family. There aren't a lot of colleges where a Fresher would know a 3rd year, or a 2nd year would happily have a chat with a finalist over a pint in the College Bar. I've never seen college morale that even slightly matches up to what we have at Teddy, and you only need go to one sports game or witness our rendition of 'Wonderhall' at the Oxmas formal to see the amount of love that everyone has for the Hall.
Tell us a little more about yourself, and your interests.
I get stuck into pretty much anything, to be honest. I love getting active and doing sport, and what I lack in skill, I make up for in enthusiasm. Though I can't say I'm particularly great at any of them, I enjoy playing football, kayaking, got into rowing in 1st year, and do a bit of climbing here and there. Making a racket on the drums, piano and electric guitar is also always a good time and a good way to destress. When I'm not doing that, you can find me grabbing a pint at the pub.
What do you think might be the most difficult aspect of being JCR President?
Guaranteed, it's got to be the time management. It's a lot of work and balancing it with my hobbies and my degree is going to be a tricky one, for sure. The College deserves a President that gives it the time and attention it needs, so it'll definitely be a challenge to do that, while making sure that I'm keeping up with work.
What was the most amusing or unexpected question you were asked in Hustings, and how did you reply?
I almost had to get my feet out to demonstrate my secret talent that I can move my middle toe like a finger but decided to opt for showing off my incredibly accurate, scientist-approved Pterodactyl impression instead. I was also asked to perform my best dance move- it's the one where you kind of go limp, lean back and let your arms wave about (pretty sure it's called The Bernie). Probably best that this is a written answer and not a video because word on the street is that it was so good, I would be scouted to be a professional dancer and have to give up my role as President.
Other JCR Committee Posts
Congratulations to the following students, who were also elected:
Academic Affairs Officer: Stefan Arama
Access Officers: Claire Mallon and Yasmin Ratcliffe
Charities Officer: Sophie Griffith
Environment and Ethics Officer: Esmé McMillan
GSD Officer: Luke Drago
International Officer: Yasmin Kreutzer
Secretary: Tia Yang
Sports Officers: Poppy Buckley and Teddy Thompson
Social Officers: Sophie Richardson and Emily Falconer
Welfare Officer, female*identifying (where female* = female and minority gender identities): Verity Black
Welfare Officer, male*identifying (where male* = male and minority gender identities): Jake Elliott