Music in the Hall: a musical performance series from Teddy Hall students in isolation
13 May 2020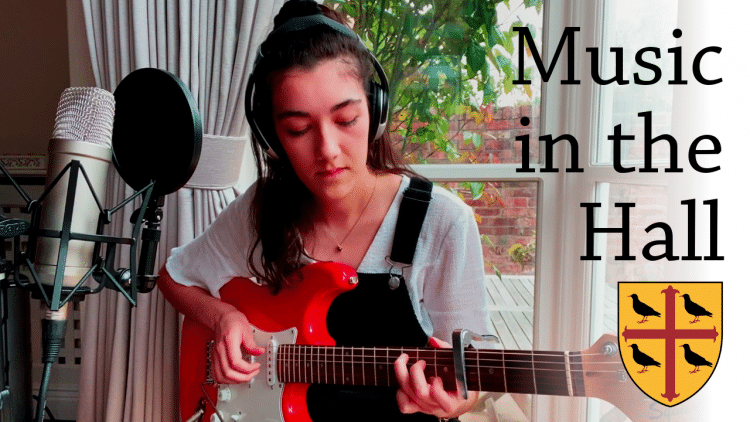 St Edmund Hall is pleased to be bringing to you a new video series called 'Music in the Hall: a musical performance series from Teddy Hall students in isolation'. Over the coming weeks, you will hear from singer/songwriters, pianists, the Teddy Hall Chapel Choir and much more!
To begin the series, singer/songwriter Emma Moreby (2016 Chemistry) performs The Future is Long, a touching song she started to write during the last few days of Hilary Term — after being told our students would need to return home from Oxford — and which she completed a few days after arriving home. Pianist Gavin Bala (2019, Mathematics) plays Mendelssohn's astonishing Rondo Capriccioso in E Op.14, a piece the composer completed in 1830 and which became one of the most popular pianistic showpieces of the nineteenth century.
The genre of singer/songwriter is truly international in modern times, cutting through and embracing many cultural traditions. Tracing the tradition takes us back many centuries and it's worth pausing on that journey to bask in the medieval flowering of the genre as seen in the music of the troubadours, or trobairitz, to use the female form. One beautiful thirteenth century book of troubadour songs is right here in the Bodleian, MS Douce 269:
Oxford is known as one of the world's most important research centres for Mendelssohn: the Bodleian library has a large collection of the composer's autographs manuscripts, letters, drawing books and other personal items including his conducting baton. Mendelssohn visited Britain ten times during his short life and became a favourite of Queen Victoria. He was responsible for reigniting interest in the music of J. S. Bach, whose ability to combine precision with beauty influenced his own music. Teddy Hall undergraduate John Stainer (see May Morning blog and a future performance in this series) sang in the first public performance in England of Bach's St Matthew Passion in 1854, conducted by Mendelssohn's pupil William Sterndale Bennett. Listen to Mendelssohn's Violin Concerto played by Julia Fischer and his masterly Octet.
Coming up: there's more to come this term from Emma and Gavin. Plus there will be performances this term from pianists Zhuo Guan and Hudson Hovil, Singer-songerwriter Raven Undersun, Teddy Hall Choir, organ scholar Viraj Alimchanani and other talented members of the college music community. Expect to hear music by Haydn, Purcell, Stainer and Schubert together with a few surprises: pieces that will be heard here for the very first time.
To be notified of future performances, please subscribe to the St Edmund Hall Youtube Channel
The series is curated by Dr James Whitbourn, Director of Music, who can be contacted at james.whitbourn@seh.ox.ac.uk