Second Year Fine Art Exhibition Annual Show 2021
21 Jun 2021
On Thursday 17 June, Teddy Hall second year Fine Art Students held their annual art show in the Senior Common room at St Edmund Hall. Each student selected a piece from the College's private collection to respond to in any medium.
The students have shared their artwork with a summary about each piece below.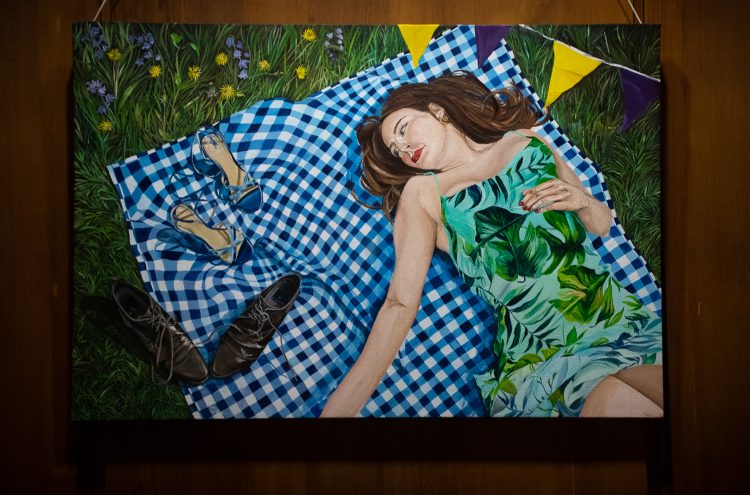 Daydream, by Jenny Gill (2019, Fine Art)
Oil and Acrylic on canvas, 60x90cm, (2021)
"Daydream is a painting of myself lying on a picnic blanket looking dreamily at a man who is out of frame, the only way to identify him is by his shoes, that have been stepped out of on the picnic blanket, therefore the shoes are a portrait of this mysterious man. Fundamentally, the painting is about the blissfulness of young love, a universal feeling that the viewer can reminisce about.
I chose to respond to Sir Stanley Spencer's 'In Church' as we both share a passion in the human condition and capturing emotion. Spencer's painting illustrates an awkward moment of a girl entering a pew and the gentleman standing up to let her past. I have echoed this discomfit in my own painting, as the viewer feels as though they are intruding on a couple's private moment.
My paintings are built around my ability to create several personas inspired by media and art history. The cinematic trope of film language and movie culture has provided me with a substantial amount of material to deconstruct and respond to. My preparatory drawing for my painting is photography, which I crop and filter to my desired colour palette. I shoot my preparatory photos alone on a tripod; therefore I give my subject matter agency as I am in front of the lens, behind the camera and painting the picture, adopting the female gaze. My work involves turning the lens upon myself as I style, stage and act out for the camera to create a trope/ persona from cinema, which question gender stereotypes and perceived norms in popular culture. As I have started to use myself as my muse, my works could be said to be defined by a combination of both a sense of critique and equal fascination."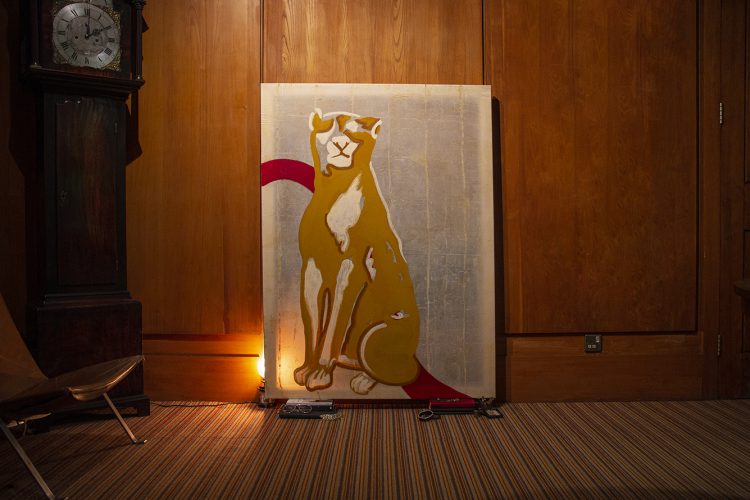 Bedroom Queen (2021), by Lewis Campbell-Smith (2019, Fine Art)
Exhibited alongside Jungle Boy (1964), by David Hockney.
Materials:
oil sticks,
acrylic paint,
liquid latex,
canvas stretcher frame,
bedroom floor sweepings,
The Production of Space,
earrings,
glitter,
necklace,
glasses,
house keys,
A Queer Anthology of Loneliness,
A Queer Anthology of Joy,
gold nail polish,
bracelets,
sew on rhinestones,
ring,
bronzer,
contour kit,
diary,
sketchbooks,
miniature crown,
potting soil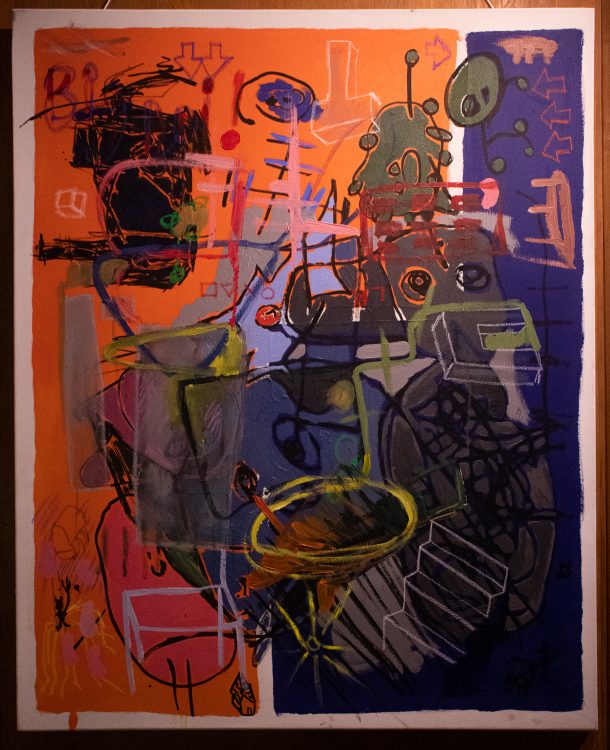 Elephant, by April Dublin-Beeton (2019, Fine Art)
102x126cm, acrylic paint, chalk, ink and oil pastel on canvas, (2020)
"This piece mainly combines imagery of the artist's own childhood drawings with architecture and everyday objects and symbols to create her own language. She is interested in how this language can create a mental landscape or mood that sits in a liminal space, playing with the boundaries between the imaginary and the real."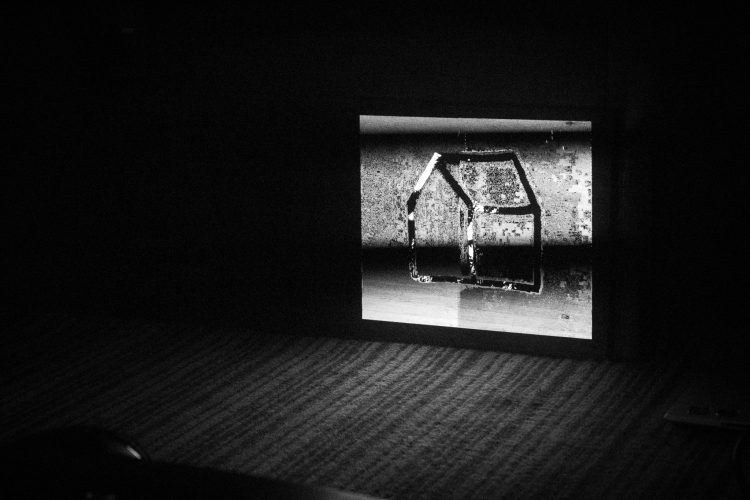 'Untitled', by Yang Gao (2019, Fine Art)
30x21cm video projection on loop
"This work explores the transitionality of the domestic space and its architecture through associating the space with narratives, nostalgia, and personal memories. I am interested in the narrative potential of domestic elements through their theatrical re-staging and adaptation to alternative surfaces."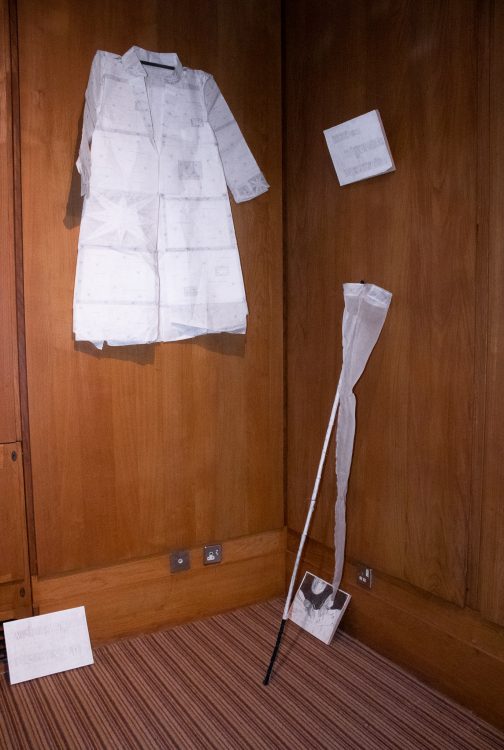 The moths between commas, by Emily Webb (2019, Fine Art)
"My work explores the crafting of a speculative framework in which both physical and natural systems are aligned and plotted onto a landscape. These form surrealist ontologies in which objects and figures shift through states of subjectivity, moving between text and sound; between solids and liquids. Following this overriding score, they sit amongst symbols. Working with this overriding narrative, my work takes the form of short fiction, large graph drawings, crafted objects and video. Focusing on the crafted nature of knowledge production, I stay with the 'attempt', working largely with the handmade, I allows my works to show their making. In this way, I am interested in the tools and objects that shape and resist my system of mapping.
Created in response to Ceri Richards 1965's Lithograph 'Do not go gentle into that good night', the installation draws on the moth-like features of one of the figures and the sense of suspendedness within the image. The flatness of Richard's image that marks the hybrid figures as interconnected with the landscape that they are suspended above.
I was inspired by the flatness of Richard's image to create an extended drawing. The two objects the 'Coat that keeps out the future' and the 'Net that catches synonyms' were drawn from pre-existing works but have been newly applied to suggest a landscape of objects, text and notation. The symbol of the moth's was somewhat inspired by Virginia Woolf's the 'waves' originally titled 'the moths'. In Woolf's text the narrative moves between figures who themselves drift amongst language, time and solid events. In this way, these moths suggest the possibility of movement, the potential for them to shift between the objects and text."
A huge thank you to Michelle Mendeta Mean who photographed the exhibition.
Related News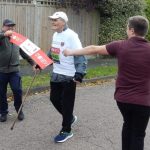 David Picksley walks the London Marathon!
David successfully finished the marathon in 9202nd place (out of 11206 participants) and 2nd place in the 80+ category, in a time of 7 hours and 28 minutes.
13 Oct 2021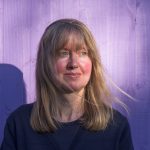 Hall alumna discusses her book The Suicide Prevention Pocket Guidebook
On Thursday 7 October alumna and author Joy Hibbins (1981, French and German) gave the fifth talk in the Hall's online event series, Aularian Authors.
8 Oct 2021