St Edmund Hall come a close second in University Challenge 2018-19!
23 Apr 2019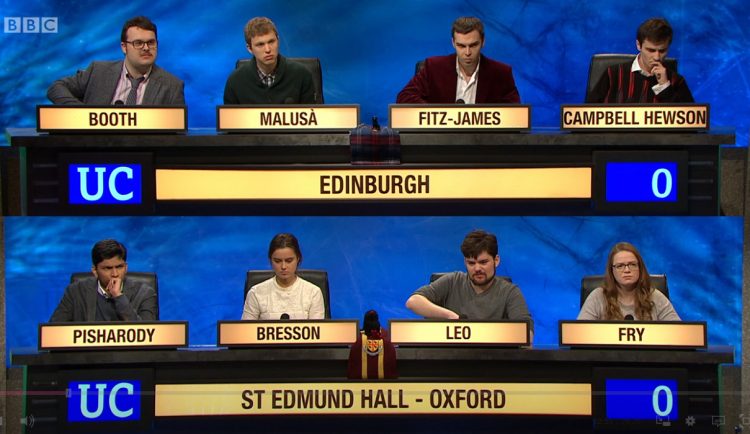 Last night, the final of the 2018-19 series of University Challenge was broadcast on BBC2 and, after a very exciting and close match, Edinburgh University were crowned as champions after beating the St Edmund Hall team by 155 to 140 points. It really was a nail-biting conclusion to this year's competition, which saw the lead switch several times. Congratulations to Edinburgh on their victory, and to all the players on both sides for making it such an entertaining final.
The Teddy Hall team – of Marceline Bresson (2017, Economics and Management), Lizzie Fry (2015, Geography), Freddy Leo (2016, History) and Agastya Pisharody (2017, Materials Science) – received huge support from fellow students, alumni and staff at the College, who have been avidly following their progress.
St Edmund Hall's Principal, Professor Kathy Willis said: "Congratulations to Agastya, Marceline, Freddy and Lizzie. The Hall has been revelling in their achievements and we are deeply proud of them. Although Freddy has attracted the majority of the media attention, thanks to his lightening-quick buzzing, the depth of knowledge across the team has been truly impressive, especially when you remember that they had an average age of just 19 at the time of filming. It has also been fantastic to have a gender-balanced team, which isn't all that common for University Challenge teams. I know they all put in a huge amount of work and preparation in order to become such a formidable team (I'm not sure anyone else in the Hall would like to play against them in a College quiz night!)."
St Edmund Hall put in some very strong performances throughout this year's competition. They beat the University of York 240-105 in the first round; then, with almost exactly the same score, won against Clare College, Cambridge 245-105. In the quarter-final matches, they beat Emmanuel College, Cambridge by 190-55 and Bristol University 150-130. They reached the final by winning against Darwin College, Cambridge 165-140.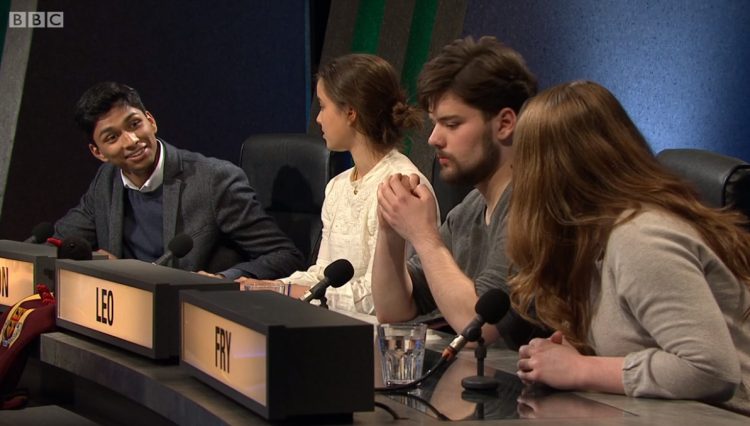 Teddy Hall's previous best performance on University Challenge had been when the team of 1983 were defeated at the semi-finals stage. "To reach the finals of University Challenge is a huge achievement; the first time in the College's history," added Professor Willis. "All of the Teddy Hall community has enjoyed cheering them on and although the final unfortunately didn't quite go our way, we will be celebrating as a College this week the team's wonderful display of Hall spirit throughout the contest."
Reflecting on the competition, Agastya said: "University Challenge was an unforgettable experience and I couldn't have asked for a better team to go through it with. When I showed up to try out, I didn't expect to make the team, let alone be a part of Teddy Hall history by reaching the final!" Lizzie added: "Even though it felt decidedly sore at the time, I'm glad it was Edinburgh who bested us in the end. Both sides gave a great account of themselves and should be really proud, as proud as I am of my lovely teammates." Marceline, who is from the Netherlands, said: "The whole experience kind of baffled me – I didn't know what University Challenge really was until I made it onto the team so it was all very unexpected! Freddy, Agastya and Lizzie are amazing people but I also want to attract some attention to Mike Atkinson (2015, PPE) who was there with us the whole time while preparing for the finals as our reserve."
When asked about his highlight of the series, Agastya said: "Though I enjoyed all of our matches, my favourite was definitely the semi-final, where we faced off against Darwin, Cambridge. It was a highly anticipated match between captains Freddy and Jason, and it certainly lived up to the hype!"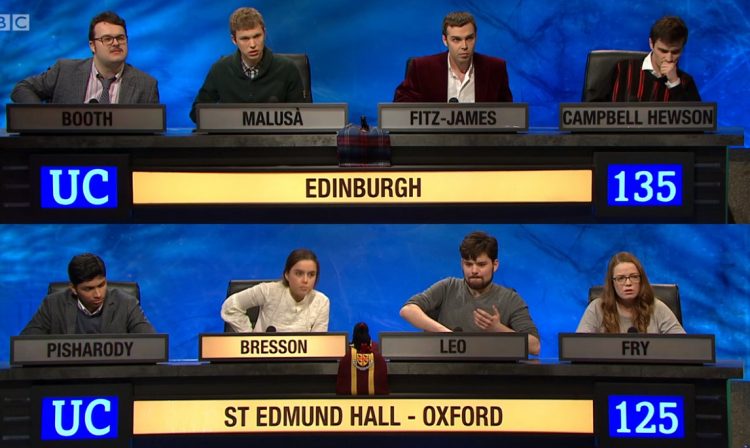 "My personal on-screen highlights bookended the series," said Lizzie, "the first being a hat-trick of bonuses on BAFTA award winners to see us take maximum points from our very first question, and the second being the final itself. That was my best game, with three starters and a few bonuses (including two on my favourite topics of sports and ornithology). To get there would have felt surreal if I hadn't seen the calibre of this team in practice and previous matches, and it was an absolute pleasure to represent Teddy Hall with them!"
In terms of favourite questions, Marceline replied: "I personally liked the music questions a lot, especially the one in the final (which we didn't get but was still fun to listen to). Also I think there is too much of Shakespeare, the man is in every episode!"
Postgraduate Ben Fernando (2016, DPhil in Environmental Research) acted as the team's coach, sharing the experience he gained from taking part in University Challenge as an undergraduate at Imperial College, London (his team reached the quarter-finals in 2015-16). "It's been a stunning performance, with the team achieving the Hall's best-ever result by quite some margin," he said. "Although I'm sure they are disappointed to have the title slip from their grasp by such a narrow margin, their performance really was stellar and I'm sure the entire College will join me in being very proud of them. It's been a pleasure to work with them and see their skills improve so dramatically."
If you missed the final, it is currently available to watch on BBC iPlayer.
Related News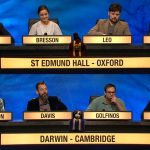 St Edmund Hall through to University Challenge final!
Congratulations to our team of four undergraduates who beat Darwin College, Cambridge in a closely-contested semi-final match
16 Apr 2019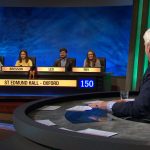 Watch the Teddy Hall team this Monday in their University Challenge semi-final!
St Edmund Hall take on Darwin College, Cambridge for a place in the final of this year's competition
9 Apr 2019