St Edmund Hall through to University Challenge final!
16 Apr 2019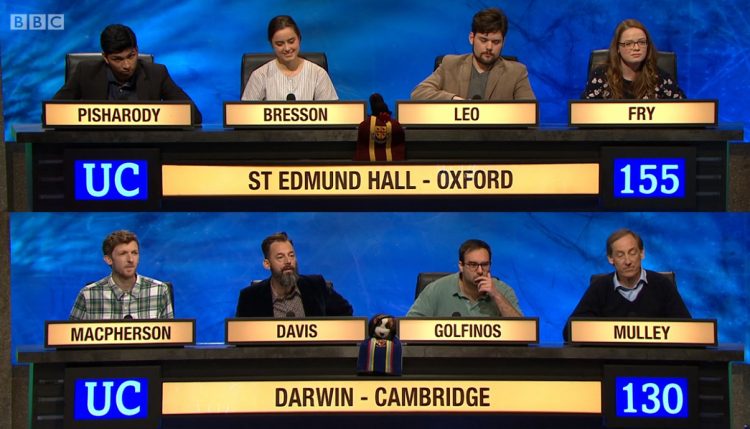 Our brilliant team of four undergraduates – Marceline Bresson (2017, Economics and Management), Lizzie Fry (2015, Geography), Freddy Leo (2016, History) and Agastya Pisharody (2017, Materials Science) – put in another superb performance last night on University Challenge to make Teddy Hall history by winning themselves a place in the final. That match, which will be against Edinburgh University, will be broadcast on BBC2 on Easter Monday (22 April) at 8:30pm.
In their semi-final encounter, St Edmund Hall and Darwin College, Cambridge got off to a fairly even start, before Teddy Hall slowly pulled a little ahead. Darwin, however, fought back strongly in the last few minutes of the quiz, making for an exciting and tense finish, but Teddy Hall just held out and the final score was 165-140. This means that our current team are the first to reach the final of University Challenge – with our previous best performance being the St Edmund Hall team of 1983, who were defeated at the semi-final stage.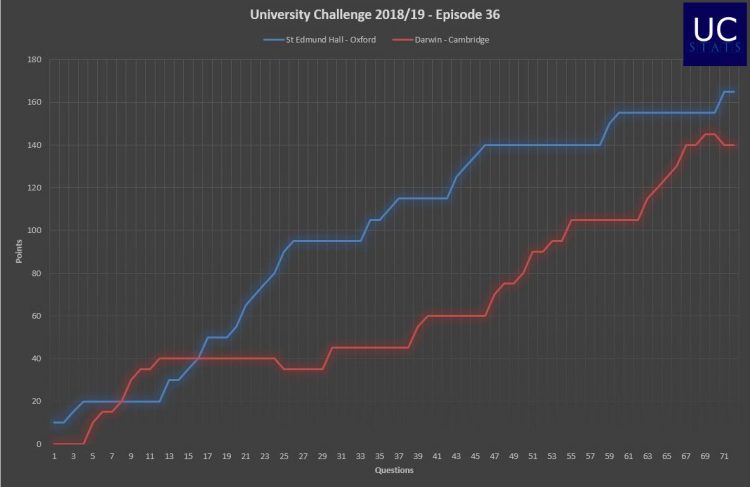 Darwin, which is a postgraduate college, fielded a well-fancied team, particularly notable for their impressive captain, Jason Golfinos, who has the highest average score of any individual in this year's series so far.
"I knew Jason Golfinos before the season began filming, having met him on the UK quizzing circuit earlier that year," explained Teddy Hall's captain, Freddy Leo. "I was absolutely terrified of the prospect of Teddy Hall running into Darwin, since I knew they would be almost impossible to beat. As it happened, we were ultimately able to come out on top, but only by the narrowest of margins and with a considerable dose of luck. Well played to them – they were formidable opponents and delightful in person."
Final-year student Lizzie Fry said: "Being able to represent Teddy Hall has been an honour, as I've really enjoyed and gained a lot from my time studying here. Whilst I'm sad that that is coming to an end, I feel very fortunate to be finishing with an appearance in the University Challenge Grand Final, especially with such a lovely team."
We wish the Teddy Hall team the very best of luck in the final! If you missed the semi-final, it is available to watch on BBC iPlayer.
Thanks to @StatsUc for permission to reproduce their graphics.
Match statistics, courtesy of @StatsUc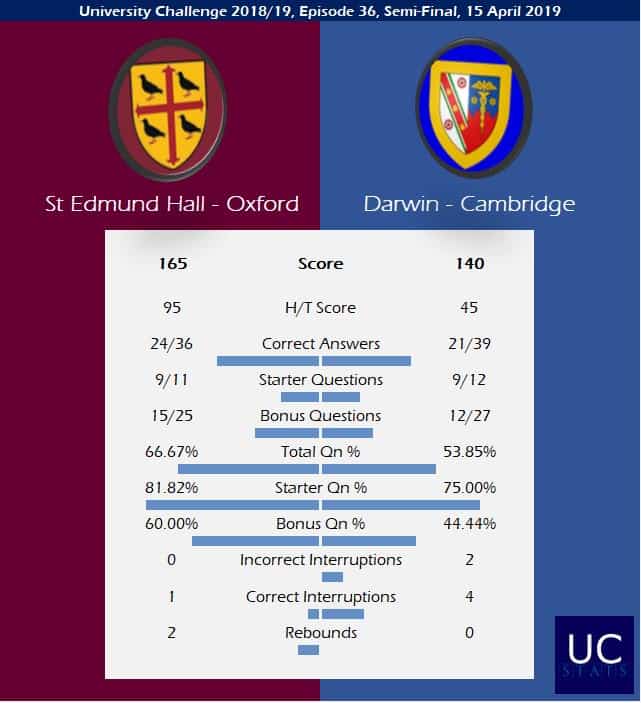 Related News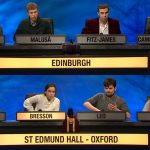 St Edmund Hall come a close second in University Challenge 2018-19!
Well done to our team who did so brilliantly throughout the 2018-19 competition, finishing as runners-up to Edinburgh University after an extremely close final
23 Apr 2019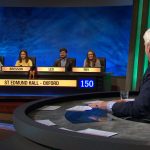 Watch the Teddy Hall team this Monday in their University Challenge semi-final!
St Edmund Hall take on Darwin College, Cambridge for a place in the final of this year's competition
9 Apr 2019