St Edmund Hall PPE Society dinner welcomes Writer in Residence as guest speaker
19 Nov 2018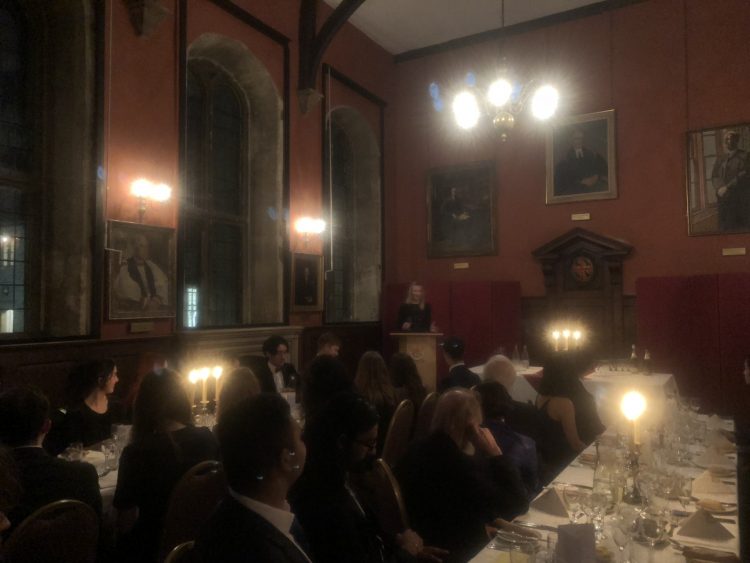 The St Edmund Hall PPE Society were delighted to welcome our Writer in Residence Linda Davies as guest speaker at our annual subject dinner on Wednesday 7 November 2018. The dinner was held in the Old Dining Hall. In all, there were 31 attendees, comprised of PPE undergraduates, Visiting Students, tutors, lecturers, and Emeritus Fellows. We enjoyed wide-ranging discussions during the dinner and long into the evening.
Our guest speaker Linda Davies read PPE at the Hall (1982-1985), going on to forge a successful career as an investment banker, and later as an internationally acclaimed author. Her first novel, Nest of Vipers, was published in over thirty countries and has sold over two million copies.
Members of the PPE Society enjoyed hearing anecdotes from Linda's time at Teddy Hall during her speech. These included getting stuck in a snow storm on the way to her interviews, as well as learning about a mystical skill acquired at the Hall called 'PPE magic' which Linda assured us has helped her through tricky moments in both her degree and her career. Linda also read out a fantastic poem she wrote, the 'Ode to PPEists', taking inspiration from Rudyard Kipling's 'If'. Linda's poem is included below.
The PPE Society would like to thank Linda for attending, and wish her every success as she completes her term as Writer in Residence at the Hall, and beyond.
Chris Johnson (2016, PPE)
Ode To PPEists
By Linda Davies (PPE 1982-85)
With apologies to Rudyard Kipling
IF you can keep your head when all about you
Are in the red and blaming it on you,
If you can doubt your bank when others trust it,
And extract your money 'fore they form a panicked queue;
If you can wait and take the long view,
And filter out the braying of the pack,
If you can adapt when your models go askew,
And correct your error with another tack,
If you can dream – and turn those dreams to action
If you can think – and through your thoughts take aim;
If you can meet with Trump and Putin
And treat those two impostors just the same;
If you can bear to hear the truth you've spoken
Twisted by emotion to bait a trap for fools,
Or watch your finest logic broken,
By those armed not with reason but with mob-rule:
If you can post on Twitter and keep your virtue,
Walk the boardroom but not lose the common touch,
If neither lobbyists nor journalists can hurt you,
If (financial) models count with you, but none too much;
If you can make one heap of all your winnings
And NOT risk it on a tranche of sub-prime,
If you can sell when others buy
And hold your nerve and bide your time
If you can ask what nobody thinks to,
And dare to question the established trend,
Yours is the Earth and everything that's in it,
And – which is more – you'll be a PPEist my friend!
Other News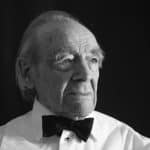 Memorial Service for Dr Francis Rossotti
Memorial Service held for former Tutor in Inorganic Chemistry
10 Oct 2019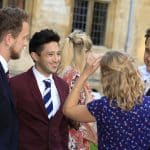 Aularians return to Teddy Hall
Over the summer over 250 alumni and guests visited the Hall for their anniversary dinners.
9 Oct 2019