Music in the Hall series: Singer/Songwriter Week
26 May 2020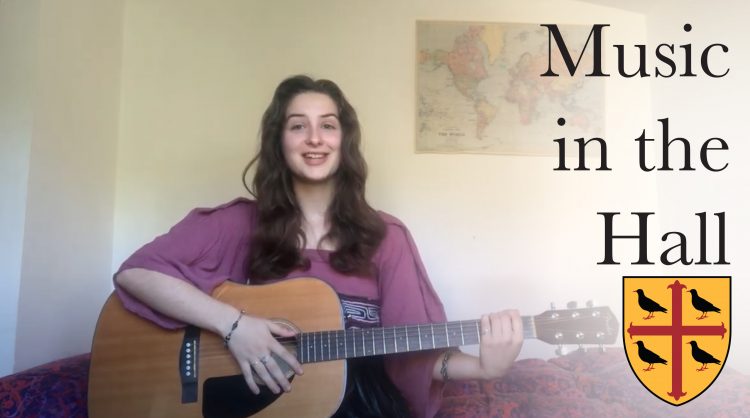 St Edmund Hall is pleased to be bringing to you a new video series called 'Music in the Hall: a musical performance series from Teddy Hall students in isolation'. Over the coming weeks, you will hear from singer/songwriters, pianists, the Teddy Hall Chapel Choir and much more!
It's singer/songwriter week with a new song from Emma Moreby (2016, Chemistry), whose tender song The Future is Long launched the series earlier this term, alongside another talented Teddy Hall artist Raven Undersun (2018, Experimental Psychology). This week Emma contributes her extraordinarily beautiful song, Orbits, accompanied this time on the acoustic guitar. In common with Emma's first song, Raven's was also completed after lockdown so is especially apt for this moment. Her song is called Time, and of it Raven says:
"It's about a feeling of expansive peace and potential, knowing that you have enough time to do everything you want to on a day that's come to a standstill. I finished it after the lockdown, when it seemed like all the time we thought we had was gone, to try to recapture some of that feeling. I'm happy to be sharing it with The Hall even though we can't be there together physically: I have fond memories of performing in Teddy, at music nights in the bar and at the talent show. I played in the crypt once, which was an amazingly unique experience: it has a really moody atmosphere and interesting acoustics. Last year, my favourite place to practice was sitting in my window on Kelly 3, sometimes with the window open, serenading anyone who happened to be walking through the quad below and looking out over the city's spires."
Teddy Hall has many beautiful spaces that lend themselves to musical performance, including the atmospheric and intimate twelfth century crypt. The chapel is the college's principal home to choral performance and the Old Dining Hall serves as a wonderful venue for many types of musical event. Wolfson Hall houses a beautiful Steinway piano for larger concerts and even the Front Quad itself becomes the stage for musical performance at Christmas. Music can sometimes be heard in the Old Library too, occasionally when a small concert is given there but also through strains of sound permeating from the chapel below.
Coming up: there's more to come this term from pianist Gavin Bala whose contribution is complemented next week by violinist Tsun (Henry) Chan–together with a special guest from his family. Plus there will be performances this term from pianists Zhuo Guan and Hudson Hovil and more from Teddy Hall Choir. To be notified of future performances, please subscribe to the St Edmund Hall Youtube Channel
The series is curated by Dr James Whitbourn, Director of Music, who can be contacted at james.whitbourn@seh.ox.ac.uk