Teddy Hall Library now open 24 hours a day
11 Jan 2019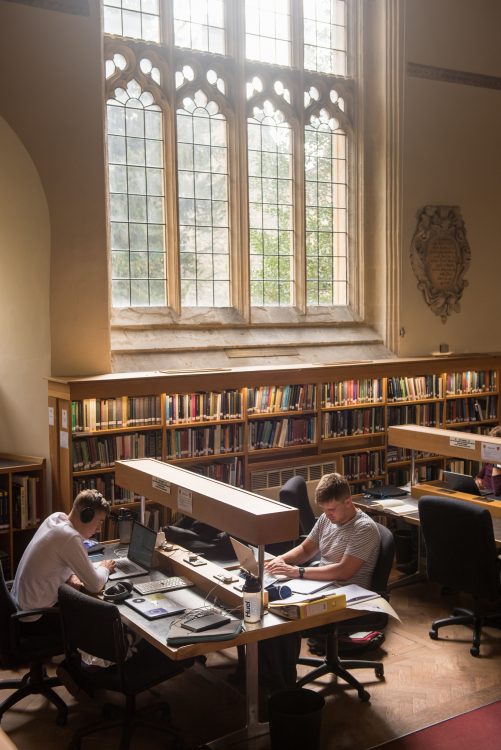 We are starting the New Year with new opening hours in the Library, or rather by getting rid of closing times! The College library is now open 24 hours a day, 7 days a week. All areas in the Library, all the books and all the other facilities are now available all the time.
"We are doing this as part of the Library's hope to be at the heart of Hall life, and because we have been asked lots of times," explained James Howarth, St Edmund Hall's Librarian. "At this year's undergraduate Open Days, we were really struck that the thing most people asked about the Library was whether it was open 24/7."
The new unlimited opening hours are just a trial for now, although we hope to make this permanent at the end of term.
If you are a Teddy Hall student, please do use the Library whenever you need and let us know what you think about 24-hour opening, including whether there are any problems or things we can do better. You can speak to the staff in the Library or email library@seh.ox.ac.uk.
Please also remember that the same rules that apply in the Library during the day apply over night as well! In particular, please do not bring food into the Library and remember that the Library is only for members of Teddy Hall. Visitors and Aularians can find more information about how to make an appointment to use the Library here.
Related News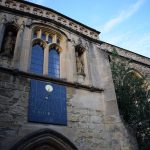 The St Peter-in-the-East Sundial
A new sundial has been installed over the porch, above the door to the library
13 Dec 2018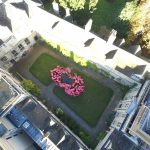 Commemoration events: Remembrance poppy and World War I exhibition
The College community marked Armistice Day by forming a human poppy, and with a display of items relating to St Edmund Hall and the First World War
13 Nov 2018