The St Peter-in-the-East Sundial
13 Dec 2018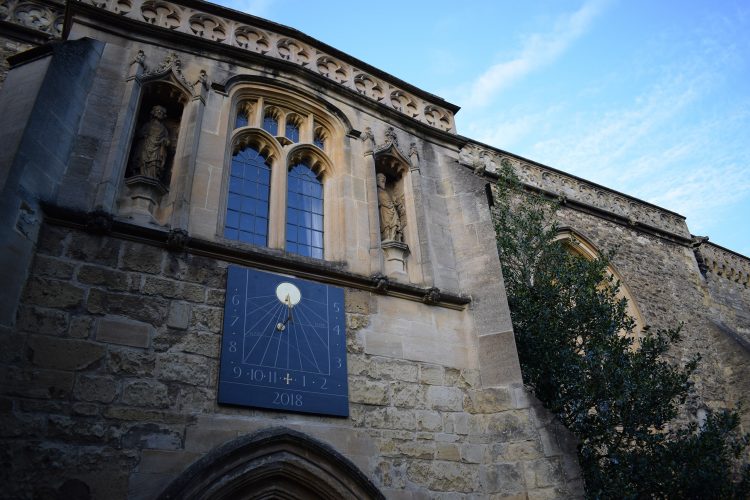 This term saw the installation of a new sundial on the church of St Peter-in-the-East, which was converted into the College Library in 1970. The idea came from an 1820 print that showed a sundial over the south porch of St Peter-in-the-East. The date on this dial was 1777 and it was probably removed towards the end of the 19th century.
Aularian David Brown (1961, PGCE) is one of the UK's leading makers of sundials and was asked to suggest a design. David had previously designed and made the Noon Mark for the College's William R. Miller building on Dawson Street. After securing the agreement of both the Governing Body and English Heritage for his design, Oxford Council granted planning permission enabling the College to apply for a faculty from the Oxford diocese which was granted in May 2018. At last the work could begin, four years after the original suggestion!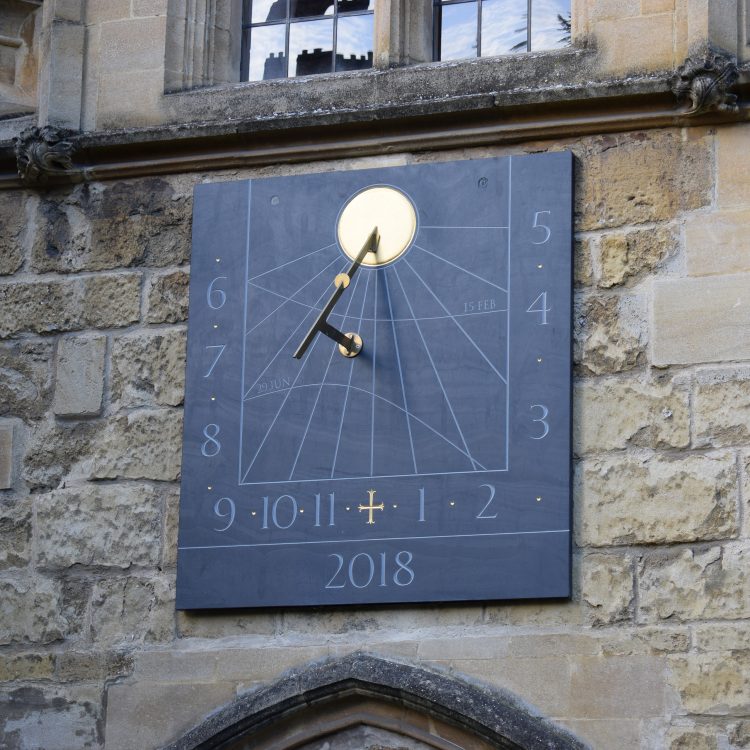 Only a few quarries are able to supply the required size of flawless slate, which came from Machynlleth in Wales. Slate was preferred to other stone for its aesthetic appearance in that position; it is easy to engrave with the precision required for a dial and it would not need maintenance.
Whilst the gnomon on the dial will project a linear shadow to tell the time, sundials can also indicate the date. This dial has two inscribed curves: one for 15 February, the date in 1913 when St Edmund Hall was issued an Order-in-Council by which it was made independent from Queen's College; and one for 29 June, St Peter's Day. On these dates a circular shadow from the nodus attached to the gnomon will follow these curves.
The College would like to record its appreciation to David Brown for designing, making and installing the dial; to Francis Pocock (1960, Chemistry) for managing the project; and to the anonymous donor who paid for the work.
Related News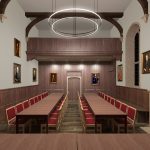 Old Dining Hall Refurbishment Underway
The first phase of the refurbishment began in March and will improve the lighting and acoustics, restore the historic woodwork and walls will be repainted in a colour consistent with the early period of use of the room as a dining hall.
15 May 2020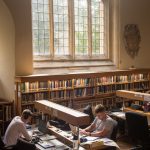 Teddy Hall Library now open 24 hours a day
The College is trialling a new policy of opening the library 24 hours a day, 7 days a week this term
11 Jan 2019