Teddy Hall team to compete in University Challenge
26 Aug 2018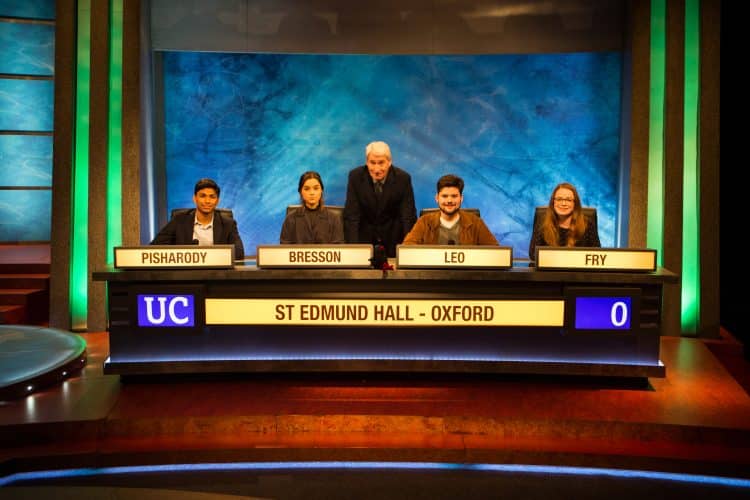 St Edmund Hall will compete once again in University Challenge, the long-running quiz show hosted by Jeremy Paxman. An episode featuring the College team will air on BBC Two on Monday 3 September 2018. Teddy Hall has competed on the programme before, most recently against Downing, Cambridge in 2010 and in a special festive alumni episode against St John's, Cambridge in 2017, but failed to secure a victory on both these occasions.
Jeremy Paxman, the long-standing host of the programme, is a Fellow by Special Election at the Hall (though is, of course, sworn to impartiality). This year's team, who are all undergraduates, is captained by Freddy Leo (2016, History); the other competitors are Lizzie Fry (2015, Geography), Marceline Bresson (2017, Economics and Management) and Agastya Pisharody (2017, Materials Science). They were joined by Mike Atkinson (2015, PPE) as reserve and Ben Fernando (2016, DPhil in Environmental Research) as their coach. Ben previously competed in University Challenge as an undergraduate at Imperial College London in 2015-16, his team placing in the final six. Here, the team members reflect on their participation in the programme.
Freddy Leo, Captain
Freddy is a History undergraduate who was in his second year at Teddy Hall at the time of filming.
"I had some prior quizzing experience, having played for the Oxford University Quiz Society at past inter-collegiate tournaments. For the show, I decided to brush up on my knowledge of the humanities, especially literature and fine arts. I consider myself extremely fortunate and privileged to have been able to captain such a knowledgeable, precocious and kind team. The entire experience was tremendously fun, and we really hope that will rub off on the viewers when the episode is aired."
Lizzie Fry
Lizzie is a Geography finalist from Worcestershire who specialises in biogeography. Her dissertation explores the effects of climate change on migratory birds.
"I've been involved in a lot of access work for Teddy Hall as a Student Ambassador, giving tours to school groups and participating in the inaugural Access Roadshow in 2016. I've represented the Hall in numerous sports teams and won a full Blue for Cricket in my second year – so I was really hoping for some sports questions! My favourite quiz topics are the 'low brow' ones, and so I was also hoping for questions on TV as much as those on Geography or History. It was a privilege and a pleasure to represent Teddy Hall with such a lovely team!"
Marceline Bresson
Marceline is an Economics and Management student from the Netherlands.
"As I'm from the Netherlands, my knowledge of British pre-war politics, geography and birds approach the limits of nothingness, so don't expect anything from me on those topics! I'm somewhat stronger on astronomy and art history, as I wanted to be a cosmonaut or an art historian when I was younger. I really hope that viewers enjoy watching the episode – it's embarrassing, endearing, entertaining and confronting in equal measure."
Agastya Pisharody
Agastya studies Material Sciences at the Hall. He is the Events & Sponsorship Officer of the Oxford University Materials Society and rows for the St Edmund Hall Boat Club.
"I study Materials Science at Teddy Hall and I was in my first year when University Challenge was filmed. I guess that makes me the team's scientist! While my main area for University Challenge was Science, my other quizzing interests include history, music and mythology. I have always enjoyed learning random facts, so University Challenge was a great opportunity to put that knowledge to use!"
Update, 4 September 2018: We are delighted to announce the team's success in this episode with 240 points to York's 105, meaning they have now made it through to the next round! The episode is currently available on BBC iPlayer.
Related News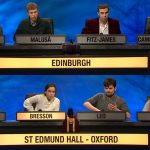 St Edmund Hall come a close second in University Challenge 2018-19!
Well done to our team who did so brilliantly throughout the 2018-19 competition, finishing as runners-up to Edinburgh University after an extremely close final
23 Apr 2019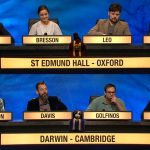 St Edmund Hall through to University Challenge final!
Congratulations to our team of four undergraduates who beat Darwin College, Cambridge in a closely-contested semi-final match
16 Apr 2019