Teddy Rocks Maths Essay Competition - 2021 Winners Announced
14 Jun 2021
Launched in February 2020, the Teddy Rocks Maths Essay Competition is a joint venture between Tom Rocks Maths and St Edmund Hall at the University of Oxford, which asks high-school students to explain their favourite mathematical topic in an essay aimed at a non-specialist audience. The hope is to give them experience in communicating complex ideas in an understandable manner and also to encourage them to engage with maths beyond the classroom.
The 2021 winners have been announced!
With over 130 entries, the competition was fierce not only in terms of numbers, but also in terms of quality (as you can see from the rather extended list of commended entries). It was an absolute pleasure to read each and every one of your essays – they were engaging, exciting, entertaining, and I learned so much about so many diverse areas of mathematics I had never previously thought about. I hope you all enjoyed the process of writing your essays as much as I enjoyed reading them and your passion for maths burns brighter than ever. A huge thank you once again for taking part, and I look forward to hearing more from each of you as you continue to develop as mathematicians.
– Tom Crawford
Student Winner
Caitlin Moeran: The Unreasonable Effectiveness of Mathematics in Art
A well-written and thought-provoking look at the work of famous artists through the lens of mathematics. Not only do we learn of the links between maths and art, but also the details of the mathematics that helps to make the paintings so appealing to the human eye.
Overall Winner
Rick Chen: Into the World of Roulettes

An insightful and entertaining look at a lesser-known branch of mathematics. Beginning with a simple geometrical example, we see how the theory of roulettes can be developed with the tools of calculus to solve some of the most fundamental problems in nature – such as that of the shape of a hanging chain and the fastest path under gravity.
College Choice Award
New for 2021, the College Choice Award is an additional bonus prize chosen by St Edmund Hall from the list of honourable mentions.
Megan Thomson: The Tower of Hanoi
A traditional problem cleverly explained, and developed further to show its connection to other branches of mathematics. The informal tone and friendly voice of the writing really helped to engage the reader – I know I was certainly left wanting to read more!
Honourable Mentions
Arushi Ramaiya: Does the way we speak about maths affect our perception of numbers?
An enlightening and interesting look at a topic I had never previously considered.
Ellis McKenzie: The Lorentz system and why truth is always stranger than fiction
An exceptional use of visuals and interactive tools to help to bring the subject matter to life.
Gavin Bala: A brief exposé of p-adics
An advanced area of maths which is well-explained with an innate sense of curiosity throughout.
Lola Barron: Prime Numbers – what we know
The history of prime numbers explained better than any textbook I have ever read!
Nicolas Wiedersheim: Elo and Glicko standardised rating systems
A very informative account of a topic I had no previous knowledge of – I learned a lot!
Philip Kimber: Maps and Projections
Interesting from both a mathematical and historical perspective in equal measure.
Rita Di Ciancia: The Mathematician and the Artist
An incredibly thorough piece of writing that could easily be found in an academic journal.
Ted Fussell: Turing Machines: the death of formalism and the birth of Computer Science
A fascinating look at how mathematics gave birth to the field of Computer Science.
Yashvir Tibrewal: Interesting Shapes
A difficult branch of mathematics explained with clarity and helpful visuals to aid the learning process.
Many thanks to everyone who took part and remember the competition will be running again in early 2022!
Other News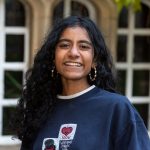 New JCR President elected: Brittany Perera
Brittany was elected by the St Edmund Hall undergraduate students to become their next president.
12 Jan 2022